It's been a while since I have done a favourites post, mostly because my routine doesn't change too much. Also after years of beauty box purchases, I have inadvertently become a hoarder of beauty samples so I have been making a conscious effort to work through the backlog of samples to make way for bigger and better things, even discovering a few forgotten gems along the way.

Beauty
As I'm getting older I am starting to invest more in skincare over makeup and have been on the search for glow-inducing products. I've been really enjoying the budget-friendly Bodyshop Vitamin C Glow Revealing Liquid Peel. It's a really gentle peel that lifts away dead skin cells leaving incredibly smooth and soft skin. I do also use a few AHAs/BHA- based products however if you're not keen on applying acids to your face and or are looking for a non-scubby exfoliant, then this might be a gentler option for you. I like that you can immediately feel the dead skin cells being lifting away and you can use it on other areas as well like your feet.
Vitamin C is meant to be great for glowy skin, but when I want something a little scrubbier and something I can use in the shower in the morning – I really like the Nip + Fab Glycolic Fix Scrub which is one of my beauty box repurchases. The sample lasted me a few months,  but I knew it deserved a favourites mention after I dashed out to Boots to re-purchase this after it ran out. If I am going to use a scrub, then I do prefer one of "scrubbier" micro-exfoliant ones that contain lots of small beads that feel a bit like sand! I know these aren't for everyone but I'm a bit all or nothing so if I want a scrub then I want a scrub. This is great as it's also a bit of a three-in-one product as it contains glycolic and salicylic acid – both of which are great exfoliants and therefore are good for aiding in dead skin and spot removal and achieving that glow.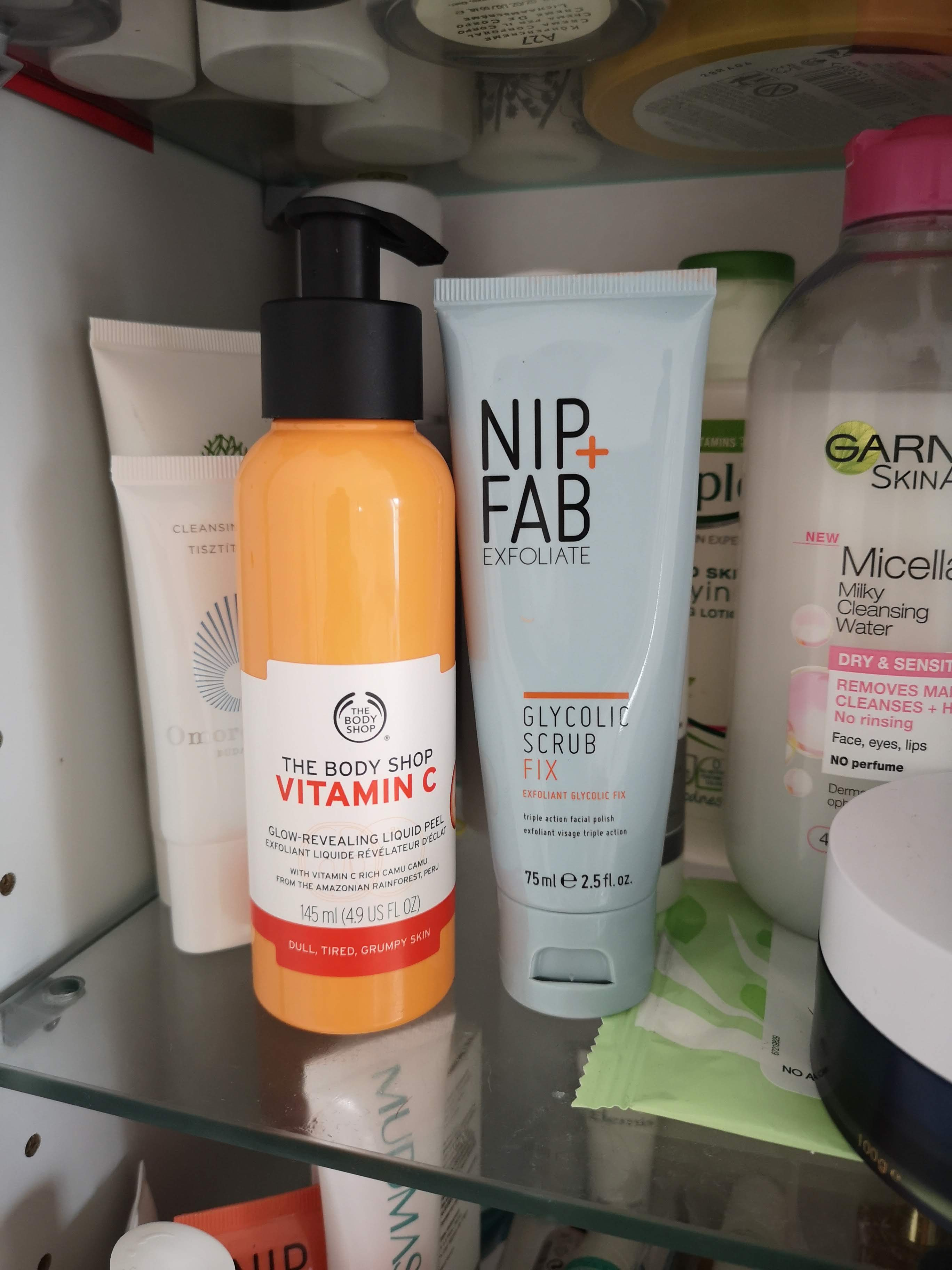 In the Glossybox 2018 Advent Calendar (how long ago does that feel?) I received the Real Techniques Expert Foundation Brush and been loving this for the last few months. I tend to veer towards beauty blenders as I can get quite dry skin and sometimes a brush can aggravate dry patches. However, as the brush is quite dense, it makes it really easy to kind of pat the foundation onto dry patches as well as using circular brush strokes in other areas. Once foundation is on, I've been concealing with the Rimmel Wake Me Up Skin Brightening Concealer. This is one of the most hydrating concealers I have used and it doesn't dry out or cake during the day, and guess what, it contains more of my favourite vitamin C! As it is quite creamy I find this works best under the eyes and just around my nose to conceal and brighten dark areas rather than tougher spots and blemishes. My only criticism is that the shade range isn't amazing and I could do with a lighter shade.
Candles and Colognes
I think one of my favourite favourite products I've been using over the last few months is The White Company Cassis Candle. For me this is my p e r f e c t scent. I think if you like the Jo Malone Blackberry and Bay cologne then you'll like this: it's a sweet but sharp smell with a berry tang and kind of a bitter edge, but in the best way possible. The second I lifted the lid off, the smell hit me and I kind of went wow – I don't care about the price, I just need this in my life! I kid you not, even if I'm not using it, sometimes I just take the lid off (annoyingly you have to buy this separately) and just have a little sniff. If anyone wants to but me the large, three wick candle – I will send you my address!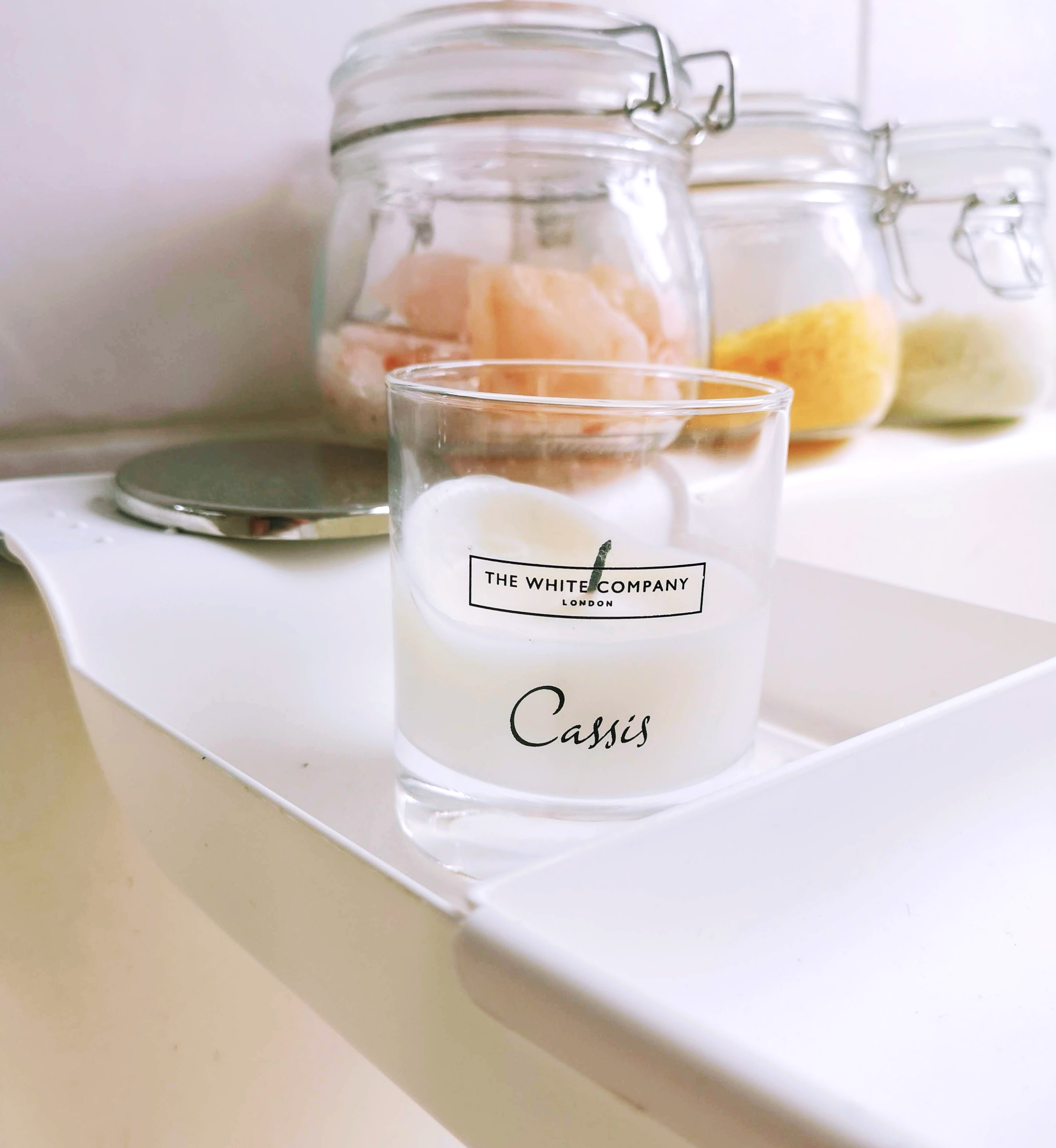 Another beautiful fragrance is the Jo Malone Honeysuckle & Davana cologne. This is really sweet, which I don't usually go for but honeysuckle is such a gorgeous smell and I just couldn't resist. Neither could my mum apparently as the moment she whiffed this on me, she got herself to JM and picked herself up a bottle as well. She even took it on holiday and got stopped by two people asking her what she was wearing! But let's not forgot about the men as well – my fiancé has recently started a new job and I encouraged him to treat himself with the JM Bronze Wood and Leather. I've loved Aaron's Dior Sauvage cologne for months, but JM is a serious contender. You know when a guy wears like a leather jacket and you can smell the leather mixed in with their aftershave? It smells a bit like that – it's so so good.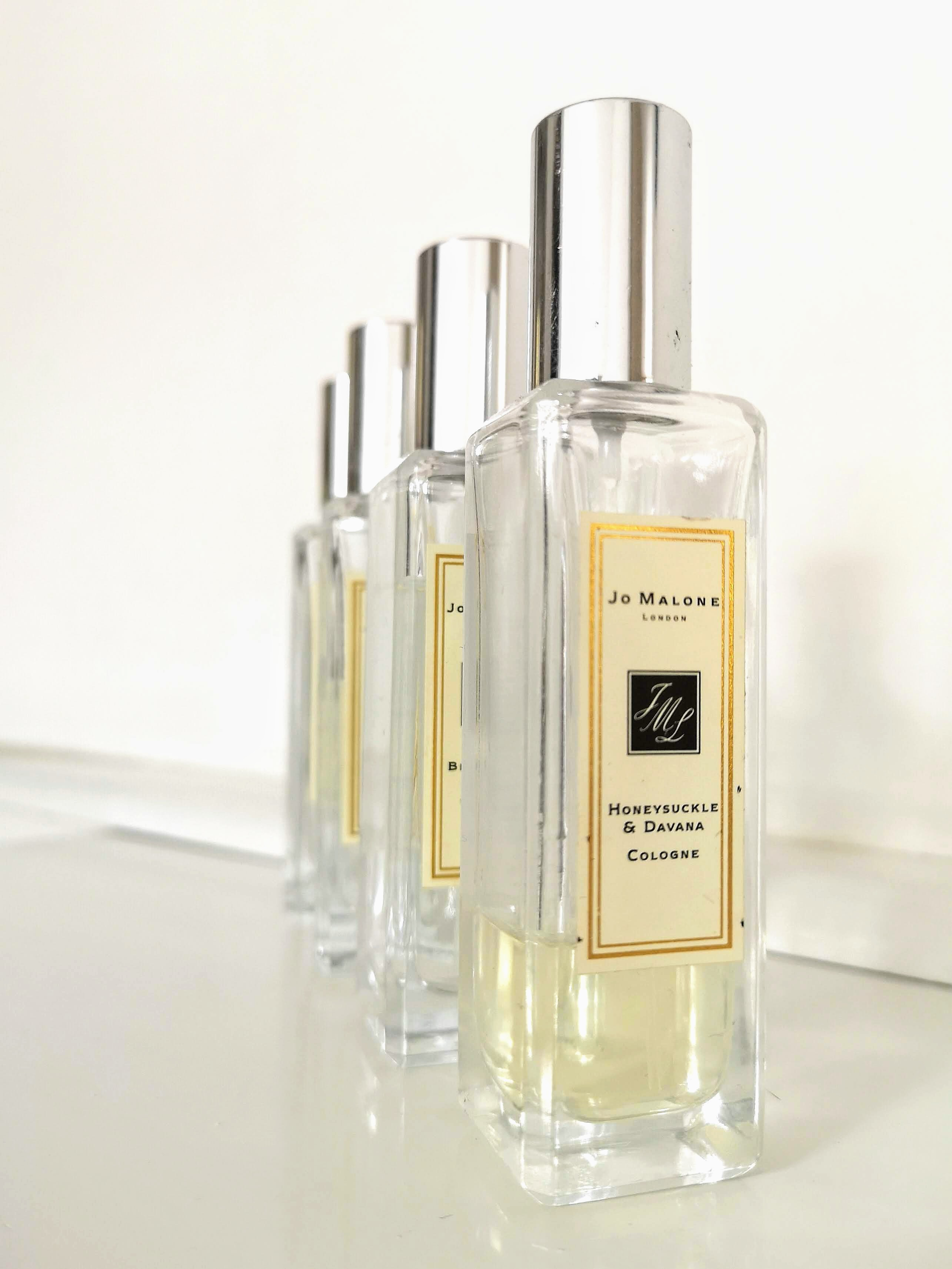 Tech and Food
My first lifestyle fave is bit of a different one, and that's a browser plugin called Honey. In a nutshell, it automatically looks for deals and coupons across the internet and applies them once a product has been added to your basket. This has been so amazing as you don't have to think about it; a little dropdown will appear once you are in your basket with a message saying "congratulations – we've found a deal". You just click the button to apply discounts and it will spend about 20 seconds trying to apply the best deal. Sometimes it will come back and say, sorry – the codes are now discontinued, but hey, nothing lost. This can also be used in conjunction with other offers as well – i.e. I used this the other day when I had a first -time-buy 20% discount then with the honey plugin, I received another £2 something off. From the top of my head, I've used this on Just Eat, Boots and Look Fantastic and it's been such an easy way to save a couple of pounds without putting any effort in.
I'm going to do a separate post on food and nutrition soon, however I just wanted to give a quick shout out to Madeleine Shaw. After Christmas, I got into that post-holiday diet slump I think meany of us suffer from in the New Year, and I just really wanted to inject more fresh fruit and veg into my diet and have a bit of a detox. I found MS on instagram and after spending a few minutes on her website, I'm now completely obsessed and have tried so may of her recipes. I'm definitely not vegan as a lot of MS recipes are, but I really wanted a break from dairy (I'm a cheese whore!) and as I said, I wanted an injection of healthy food. I was worried vegan food would be boring but I've found so many amazing recipes.
TV and Books
For TV –  we've got both Sky and Netflix, so we're are a bit spoilt for choice, so I'm going to try and keep to the best ones.
I do  a love Sky drama so to try and bundle these up, my favourites so far  this year have been:
Greys Anatomy (which continues to be a firm favourite and something I mentioned in a previous post in : My Ultimate Chillaxing Cozy Night in)
  Station 19 – spinoff from Greys about the Seatle fire department where Bailey's husband, Ben, works. All the drama of Greys but with more fires and less scalpels!
The Good Doctor  featuring Freddie Highmore as an autistic surgical resident. Highmore's portrayal of an autistic young man is amazing: heart warming and totally believable. Besides the show being a medical drama – with this combined, it's totally captivating. I nearly lost my shit when I thought part two of the Quarantine episode didn't download a while ago. (Crisis averted – it did!).
Proven Innocent featuring Rachelle Lefevre as Madeline, who after serving years in prison for a crime she didn't commit, is now a defence lawyer, whose firm takes on the cases of the wrongfully convicted.
For The People . And yep, another Shonda Rhimes creation. I think I'm a bit obsessed. This time set in a courtroom focussing on the lawyers of both  the defence and prosecution handling tricky and sometimes high profile cases.
On Netlifx, Aaron and I have binged watched Stranger Things and I always enjoy this a lot more then I think I will.  We recently watched Abducted in Plain Site too. I don't really know how to describe this… it's  about the abduction of a child and the brainwashing of her and her family – it's incredibly sad and incredibly weird to think any of this happened, but equally it's one of the most bizarre things I've watched .
Aside from vlogs, I don't tend to watch a lot of YouTube however I spent a good few hours of life watching he entire clip of : In full: ITV and Jeremy Kyle bosses give evidence at reality TV inquiry | ITV News. Regardless of whether you have watched JK or not – most of the UK would have heard of it and it's always been one of the more controversial reality TV shows. After the JK scandal Aaron found this on YouTube and this was fascinating to listen to what goes on behind the scenes and hearing the ITV team and JK bosses giving evidence to support the show has always acted in the right way. Whether you love or hate the show from an investigative point of view this was really interesting and even more so if you enjoy real-life cases. Although a prepare yourselves for some downright idiocracy and what feels like a broken record of the same guy saying over and  over again (the [lie detector] test isn't 100% accurate.)
To finally round this up –  just wanted to give a little shout  out to the book "Eleanor Oliphant is Completely Fine". This kinda fits into the Dark Comedy category. It will have you spitting your tea out with laughter one minute and wanting to hug the protagonist the next. This has been on the shelves for ages so I'm sure many of you have probably heard of it already, but if you haven't read it yet and wondering if it's worth the hype – it really is. It's an easy read and one of those books that's great to pick up on your daily commute or in your lunch hour or to wind down before going to bed.