It seems incredible that the last post I wrote was written over a weekend (the latest Cathy Glass release Too Scared to Tell)  where I visited family and friends and posted after the usual day at work. And now, fast forward a few months, I am literally sitting here having not worked in weeks and not left the house in days and watching paint dry (and yes I mean literally: I'm waiting for the paint in the wardrobe to dry so I can apply another layer).
It's incredible to think how much the world has changed in such a short space of time and I hope everyone is keeping safe and well. I know staying in is difficult for a lot of people and that the key has been to try and get into a routine and keep busy. For me, my biggest focus and distraction has been food – which probably isn't a surprise to anyone knows me. I love cooking and trying to new recipes, eating in and eating out, fine dining and Sunday roasts and everything in between. 
January last year and January this year I participated in a Vegan Month which I have been loving to do after Christmas as a bit of a detox and cleanse, and as a way to inject lots of fresh fruit and veg after gorging on Snowball cocktails, chocolates and CHEESE and crackers (etc etc etc etc etc more cheese etc etc…) Although I am not vegan, or vegetarian for that matter, I have really been enjoying introducing more vegan options into my diet. I love the whole vegan ethos and the incredible things it can do for our bodies and the planet, and whilst it has been a little harder in quarantine, I have been trying to make more vegan choices during the week and have been even persuaded my carnivore fiancé, Aaron, to enjoy a few meals.
I have to admit when I first started looking into veganism and vegan choices I thought it was mostly about fruit and veg and pulses with drizzles of olive oil and maple syrup. But since then I have also been excited to discover that there are some delicious vegan alternatives to the sweeter treats in life: Enter Mummy Meagz Rocky Roads.
The Mummy Meagz brand was founded by mother and daughter duo Meagan and Willow and their cafe, Blondes, was created in 2003 in the village of Cottingham in East Yorkshire. In 2016, the duo took the brave step in turning the cafe vegan and since then, the business has blossomed, and despite Meagan being 72, she found herself at the centre of the vegan food revolution.
Mummy Meagz has since done incredibly well, particularly with the sales of their vegan créme eggs – known as Chuckie Eggs – which are now available in Holland and Barrett. And now, hot on the heels of the Chuckie Eggs, Mummy Meagz has announced the arrival of its vegan Rocky Road bars– also available in Holland & Barrett stores – and I have been very fortunate to have been sent the Original Rocky Road, Rocky Road Orange, Rocky Road Sea Salt and Cinder Toffee, and Rocky Road Mint. 
The Rocky Road range contains no nuts, fruit, eggs, dairy or gluten and each bar is handmade; co-founder Megan Boyle specifically crafted each bar so that more people could enjoy them regardless of their dietary requirements, removing some of the more common inclusions of Rocky Roads such as nuts, gelatine and marshmallows. These are also free of GMO's and contain only palm oil considered sustainable by the Roundtable on Sustainable Palm Oil (RSPO).
I was pre-warned that although these are suitable for a wider range of dietary requirements, these are on the more indulgent side of the healthy spectrum. And you know what, that's not a problem! Despite my savoury tooth I definitely have a weakness for a sweet treat and a cup of tea. Right before going into lockdown my other half and I started on a diet plan; overall we have been doing really well, but there have been times when we both need a little food luxury and indulgence in our lives and any one of these Rocky Road bars has fit the bill perfectly and are all delicious.
We started off sampling the original to get a feel of the base flavour but the textures between all the bars are all very similar. These are so much lighter than I thought they would be – each bar is quite a chunky size and I was worried these would be a little too rich as I have more of a savoury tooth but these have the PERFECT balance between being biscuity and chocolatey and also being rich and stodgy but somehow incredibly light?! 
All of these bars are everything I would want in a Rocky Road bar, including the marshmallows which I couldn't detect as being vegan at all. I don't know if it is the vegan element that contributes to the lighter texture but Aaron and I both said that it definitely has a melt-in-the-mouth crumbly vibe but without losing that rich, sweet indulgence. I think if it was any stodgier the size would be a little too big, but as I said everything had a really great balance.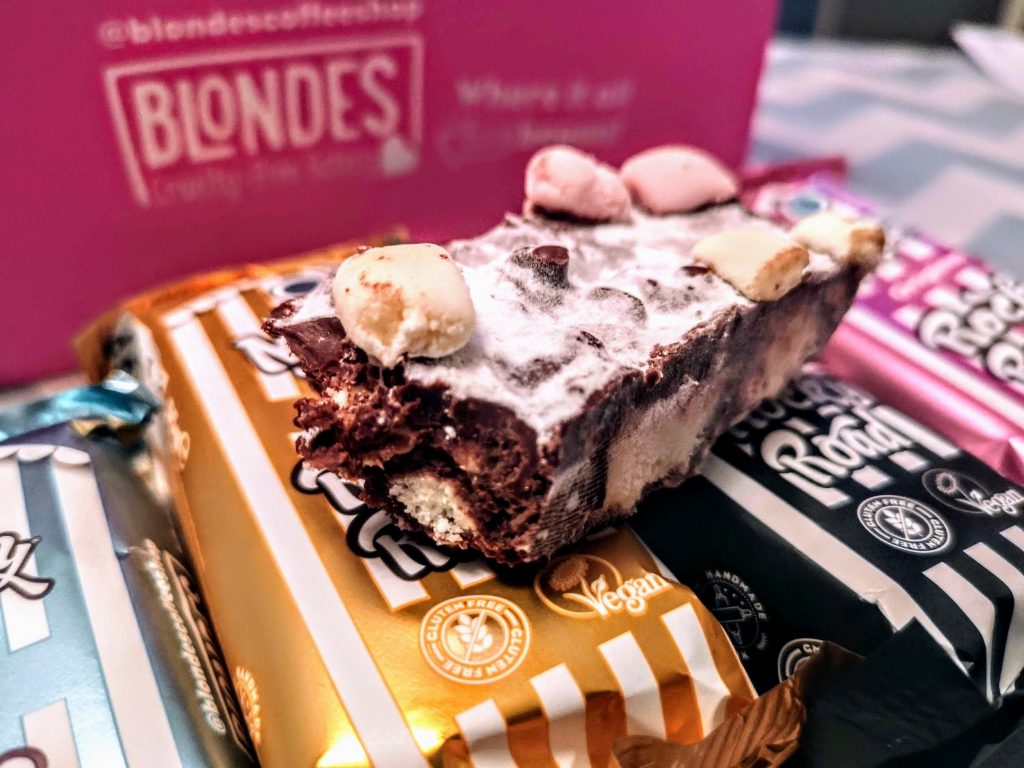 Focusing more specifically on the flavours, Aaron and I both said first impression was that the Rocky Road Original reminded us of unbaked cookie dough. You know when you're little (or an adult) and you lick the spoon before you pop the cookies into the oven – it reminded me a bit of that and combined with the above points easily made this my favourite of the four. 
For the mint flavour I was a little unsure of this as I tend not to go for these flavours as they usually remind me of eating toothpaste – so I told Aaron to go ahead and have this for himself and to save me a couple of bites so I could review. Ten minutes later I was complaining that I hadn't been saved enough 'cos this was much tastier than expected, and from now on – if I do want something minty then I will certainly be reaching for this. I actually tried this on one of the hotter days of the year and it was really lovely and refreshing – nice and chocolatey still and with a nice wash of mint but still quite subtle in flavour; perfect for a summer's day!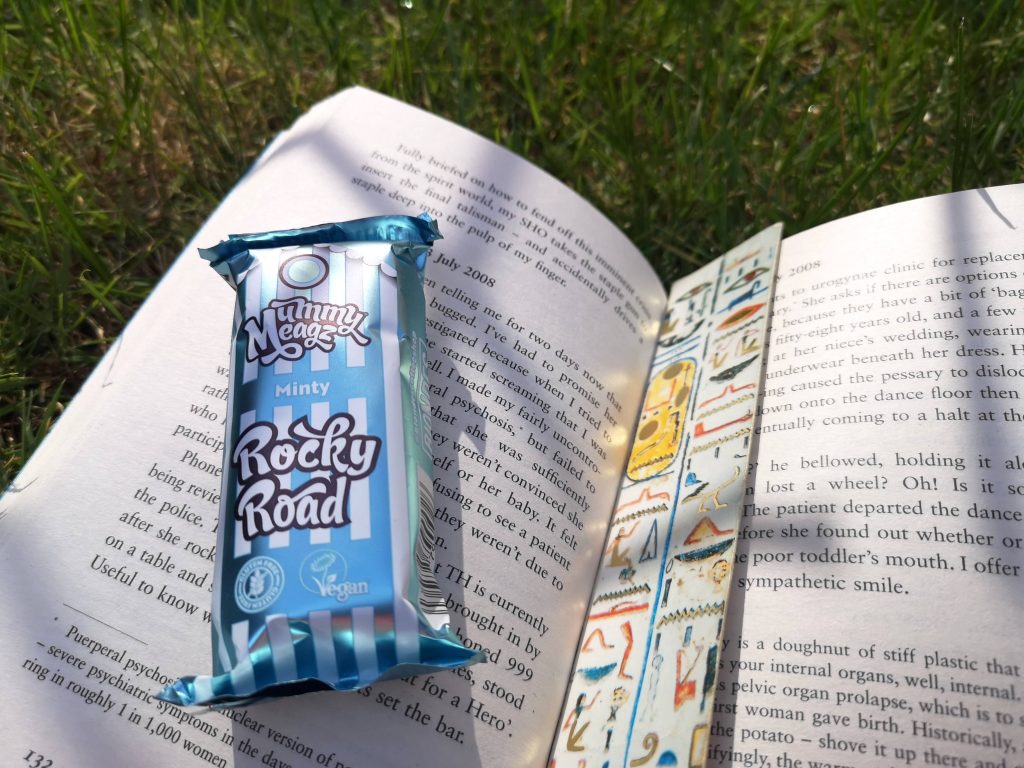 Between the orange one and the cinder toffee and sea salt, Aaron's favourite was the former and mine the latter. Aaron's thoughts were that this didn't have a big flavour impact and that the product description didn't reflect the flavour. However, I thought this was really tasty and I probably liked this more over Aaron as he has a super sweet tooth and this does confront you with little salty hits and little bursts of bitterness (I presume from the cinder), and combined with the chocolatey flavour made this really lovely! It had little crumbly pieces in which I assume might have been the toffee and tasted a bit like honeycomb – which I'm not usually a massive fan of – but again, there was just enough of this to provide a nice crunchy texture without overwhelming the other flavours. So, in summary – I don't really care what the description was as I loved the flavour although this is definitely the least sweet option of the four.
I did like the orange flavour and would gladly have this again but fist impression was that I was hoping for more of an orange flavour sensation. I guess my last chocolate orange experience was with something like the Terry's variety which is really sweet and creamy and this one smelt really orangey and had a nice citrus twang but didn't quite have the decadent indulgence for me. However, for whatever reason I enjoyed this even more second time round. I had had a very savoury meal and was really in the mood for something sweet and I reached for this, and on second helpings of this found it much more orangey the second time round. This was also Aaron's favourite of the four and quoted that he found it packed full of flavour and for him, was the perfect balance of chocolate and orange. This coming from the guy who has an incredible sweet tooth and gets those meter long Jaffa Cake packs and eats them all in one day.
So, whether you're vegan or not I would certainly urge anyone to give these Mummy Meagz Rocky Road bars a go. As I mention I did detect a difference in texture to a "normal" Rocky Road but I certainly wouldn't have attributed this to veganism and if anything just enhanced the overall taste for me and would buy any of these flavours again. If you're not sure where to start I would definitely suggest going with the original, but these are really affordable at £1.49 (Holland and Barrett price) so you could easily just try one of each flavour.
To end this review I just want to say thank you to Beki and the team who kindly sent these for me* to sample; when we're all a little down in the dumps these yummy sweet treats couldn't have arrived at a better time!
You can also find more info on Mummy Meagz below:
Website
Facebook
Twitter
Instagram
Linkedin
*Disclaimer: although these were sent to me for review all opinions are my own