I'm a little late writing the review this month; I'm not going to beat around the bush  and just be honest and say that overall – I wasn't particularly impressed with the March 2019 Glossybox. Truth be told it took me a little while to gather all the bits and pieces, and refresh my memory as to what the March contents were.

IN THE BOX

FIRST IMPRESSIONS
Bellápierre Lip Crème – I love a lip product and received the darker plumb shade. Although these deep purply colours do suit me, I was a but disappointed to receive this in a Spring box! This would have been great in an autumn/winter box but thought the shade was a bit unsympathetic for the season.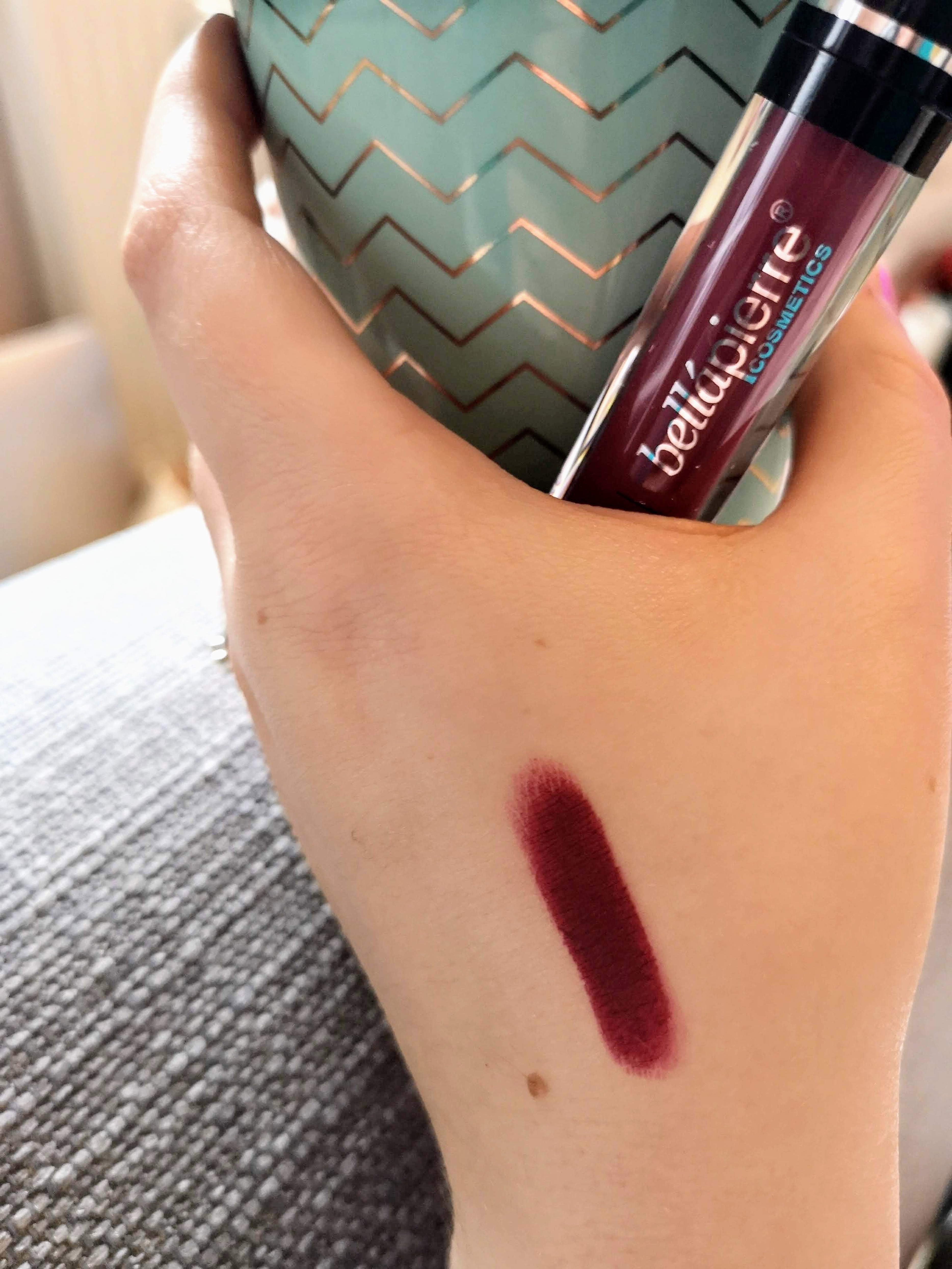 BYBI Plumper – I was really excited to receive this, as whilst my lips are nice shape – they tend to run out as they reach the edges so anything that promises to plump and moisturise receives a big thumbs up from me.
Essence Setting Spray – I have only ever owned two settings sprays in my life – was from Urban Decay and the other from Amazon, the former being the amazing one. Both have long run out so I was really eager to try a new spray to potentially add to to my collection that would both set my makeup and illuminate!
LARITZY Dew Pot – I'm a bit bored of receiving these multipurpose "glowy" pots for your lips, cheeks etc. I never find that they sit well with foundation or last well and the other ones I have are gathering dust in the back of my drawer.
Neutrogena Face Mask – Pfffffttttt!! Anyone who reads my blog might be silently laughing at my reaction to this….I can't believe it – another sheet mask! Grooooaaaan!! I am sick to death of these things! Not! with the brand or the formula but just the application of a sheet mask! Who wants to sit there feeling like they've got soggy toilet paper clinging to their face?! That's after you've spent an hour prising the stodgy sheets apart. Remember to lay back as they do slide off! I'm pretty sure I saw an advert with a girl wearing a sheet mask whilst going about her life. LIES! It doesn't exactly just fall off but you can just feel it irritatingly sliding slowly away. Pretty disappointed to receive another one of these after receiving a sheet mask the previous month as well in the February Glossybox.

FINAL IMPRESSIONS
Bellápierre Lip Crème – Despite the colour choice I had high hopes for this as it promised to dry smoothly and last for hours without touching up. On the back of my hand – this seemed to be the case, but on my lips not so much. I think, unfavourably, because it did dry so quickly it was hard to create an even finish so I kept trying to top it up. It was long lasting in some places but not others; I applied it one Saturday morning then went about my day and I found after a few hours it had faded in the middle – being such a dark colour this was quite prominent – but stubbornly stayed around the edges. Initially this was comfortable but then was quite drying and it was quite difficult to remove this from the edges of my lips. Perhaps the patchiness may have been more forgiving in a different colour, but overall this wasn't for me and would be something I would perhaps wear for a couple of hours one evening with no food or drink (but not this time of year!).
BYBI Plumper – This was very minty and definitely gives you a zingy feel on the lips as well as a nice shine and was comfortable to wear providing you don't mind said zingy feeling. But again, sadly, this didn't live up to its advertised promise of plumping the lips and moisturising rather than coating. It was pleasant to wear but definitely felt more like a vaseline then something that sunk in and coated the lip. The main reason I was disappointed was because I really was hoping this would visibly provide a bit of a plump, and would have been the reason to repurchase. Although it feels like it's working, I sadly couldn't see any difference.
Essence Setting Spray – Out of all the products in the box, this was by far the most disappointing. I quickly sprayed it before heading off to work and didn't think much more of it until I caught myself in the mirror by the front door. To my dismay I was covered in hundreds of little white dots! And where I hadn't noticed this immediately it had obviously started to dry as when I dabbed it off, it left faint white marks on my face like I had lots of dry patches or some sort of acne scarring. I thought perhaps I might not have shaken the bottle enough, but after doing some research this looks to be a common issue with the product. Also, I don't mean to sound like a snob, but whilst it's great to try different brands but I felt a bit deflated to discover this was available for around three quid from Wilkos. Of course there are some amazing drug store brands out there, but this definitely felt like one of those"you pay for what you get" scenarios.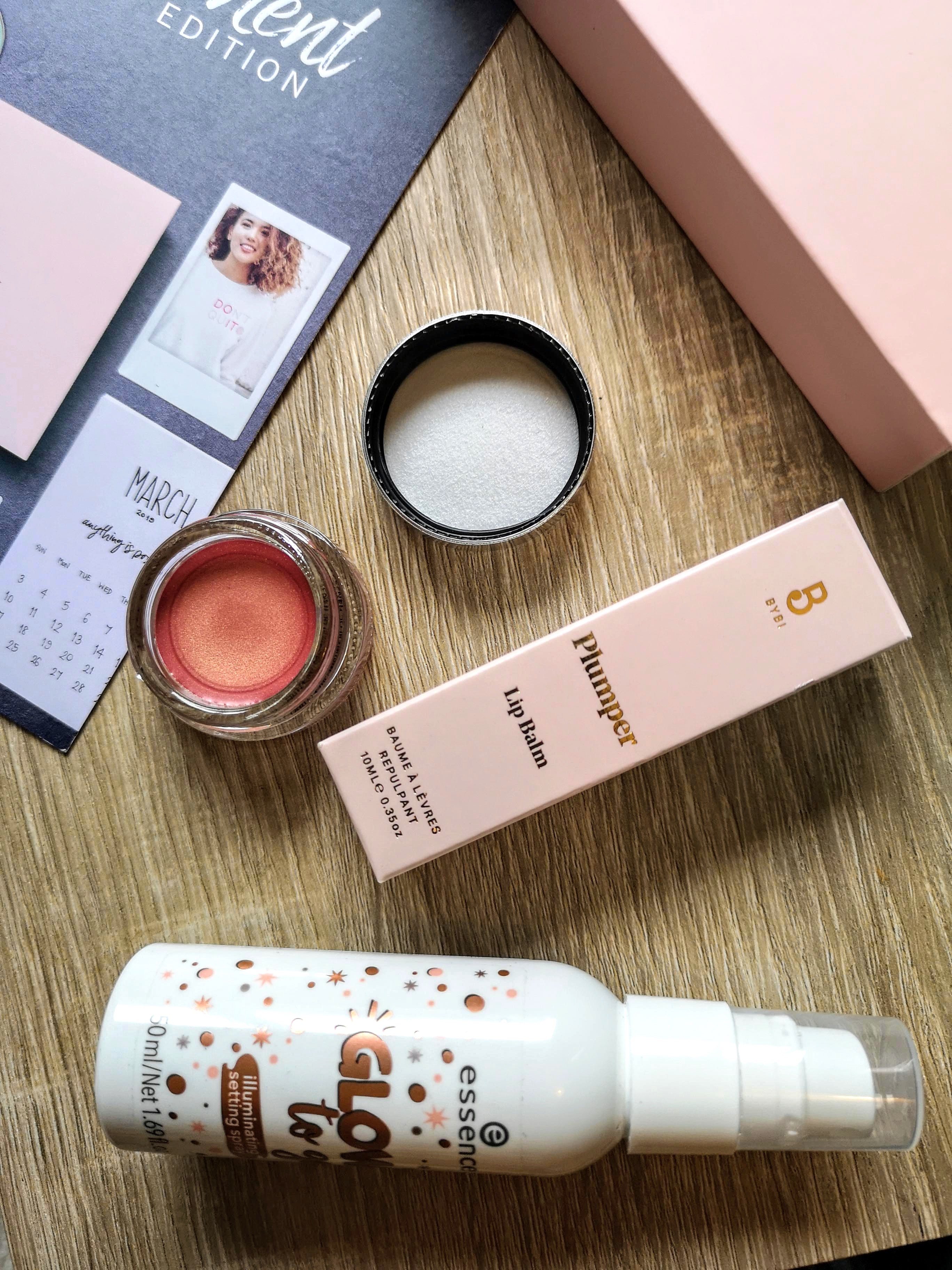 LARITZY Dew Pot – OK upon reflection I don't think this was meant to be for the lips! Out of all the products I have probably used this the most although because this was described as a "dew" pot that can be built up for a killer glow, I thought this was more of a highlighter, but this is quite a pink shade and didn't work as a highlighter. It's better on the cheeks and has a subtle gold undertone which is pretty, and although I don't wear blushes too often, or cream blushes at that, this is quite pretty and quite subtle.
Neutrogena Face Mask – I'm going to try and stop the banging on about the sheet mask bit and focus on the formula etc. I like to use these in the bath and after applying and removing, my skin felt perfectly fine but I didn't detect much of a difference in comparison to last month's mask, where my skin felt lovely and soft and did appear to be a glowier. Again, another perfectly fine product but not one that had enough of an effect to repurchase.
Verdict
I did like the "empowerment" theme this month but unfortunately, the products were not up to scratch. Glossybox do consistently deliver on product quality so I think it does stand out when none of the products are  a ten. But  over the years of being with Glossybox, it's been rare that I've bee disappointed with an whole box and I am looking forward to the next one – particularly the overnight face mask!