By Glossybox having their customary pink box every month means we are able to get excited when one of the themed boxes makes an appearance.

I'm sure many other Glossybox users like myself have all eagerly anticipated the arrival of the Valentines edition. Glossybox usually do really well at tailoring their products to the theme and creating something a little bit special for such occasions, and I wasn't disappointed when the It's All About Love chic white box made it's way to my doorstep.

IN THE BOX

FIRST IMPRESSIONS
HUDA Beauty Lip Contour – From the sneak preview of the January 2019 Glossybox, I knew this product was going to be included and was eager to try it. The first HUDA Beauty product I ever tried was from the Glossy Advent Calendar in the form of a highlighter palette, which was ah-mazing,  so I was expecting good things from this lip pencil. I was also relieved to see the colour I received was a friendly neutral and swiping on my hand, the colour looked like a perfect nude without too much brown. The liner was only swatched to get an idea of the colour, but impressively, it stayed on my hand all day and didn't budge. Needless to say, I was already having fantasies about drinking a crisp glass of Pinot on a Friday evening, my friends laughing at a joke I had made, and then I smugly place the glass on the table in front of, satisfied that that glass is clean and smudge free and my lips are on point… ahh.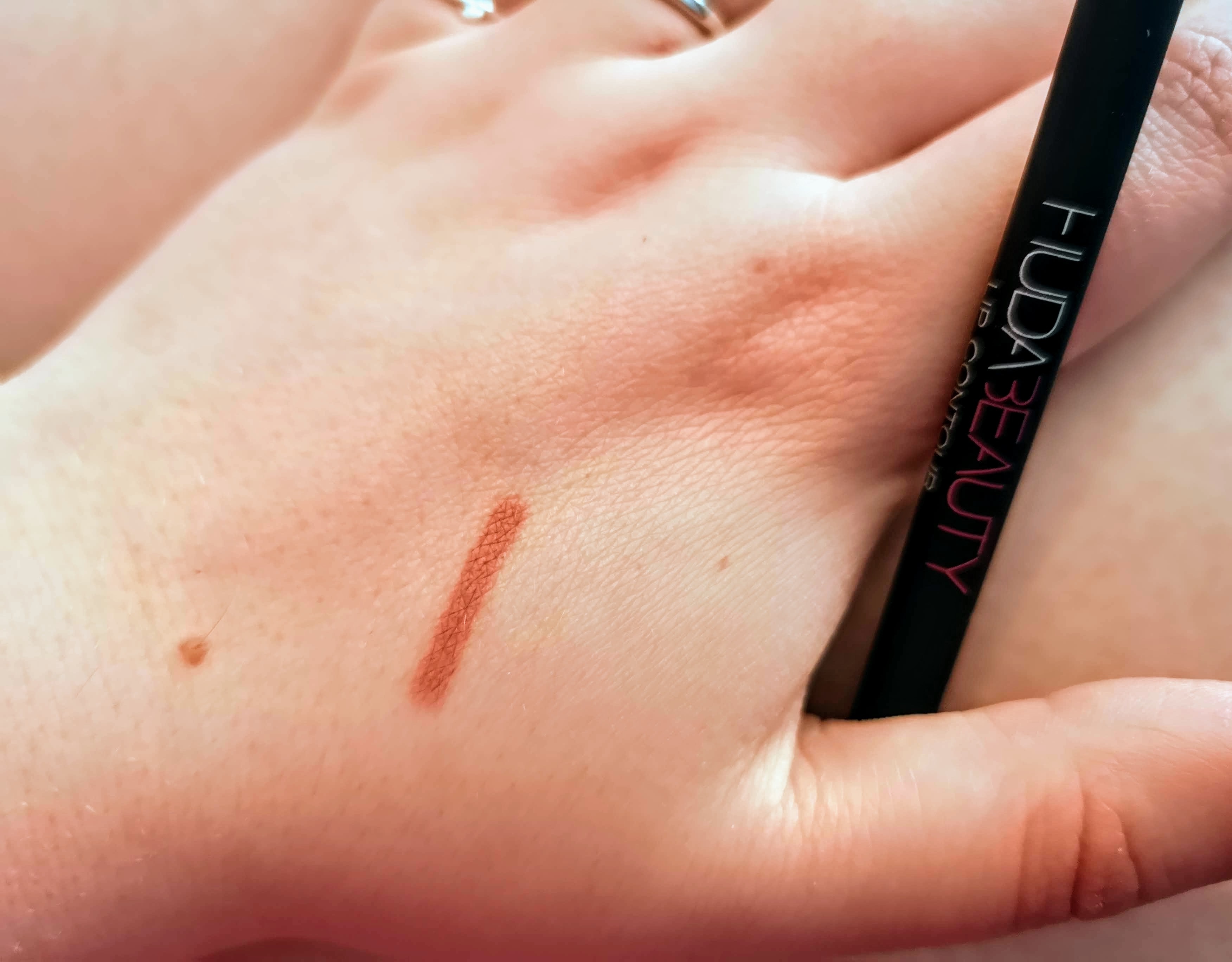 Luxie Medium Fan Face Brush – Despite not having a great previous relationship with fan brushes, I'm a bit of a sucker for nice looking things, so when I saw this, my first thought was oooh pretty! It looked very chic with its simple white and rose gold design, and I thought, hey ho, if I don't like the brush then it still looks good on my dresser.
Nails Inc Status Ready Nail Polish – You can't go wrong with a classic red, and Nails Inc has always been a consistent brand. Nail Varnishes are all a much of a muchness for me so I never tend to spend that much on them, but I thought it was an appropriate edition for Valentines Day.

REGENERATE Advanced Toothpaste – I had received this in another box before, so I wasn't as enthused by this as some of the other products, but I can see why this might have been included in a Valentines box! Having been a subscriber for so long I'm bound to receive the occasional crossover product, and to be fair it doesn't happen very often.

Vitamasques Gold Dust Sheet Mask – First Impressions? Grrrr another sheet mask! I'm sure if you have read some of my other blog posts you may have picked up on my palpable disdain for sheet masks. I really don't understand the benefits of using these against a regular mask where apply the product straight to your face. I've seen some ads they go down the route of "this easy mask fits the contours of your face and won't slide off," and it seems like they're solving a problem which doesn't need to be fixed. I just find them a faff to peel apart and get onto your face and do you know the best part? They always recommend you apply any excess formula to your face anyway! And breathe… Having got over my internal rant and, I did still take the time to read the packet, and formula wise – moisturises and healthy glow did jump out at me, which I was hoping would make the product worthwhile.

Mugler Alien Perfumes – I was really impressed that there were His and Her fragrances included, and I just thought, what a lovely idea for Valentines Day; this is what I mean when I say Glossybox are great at exploiting their theme. I'd heard of this brand, and I think the fragrance might be a new one out so I was looking forward to giving this a go.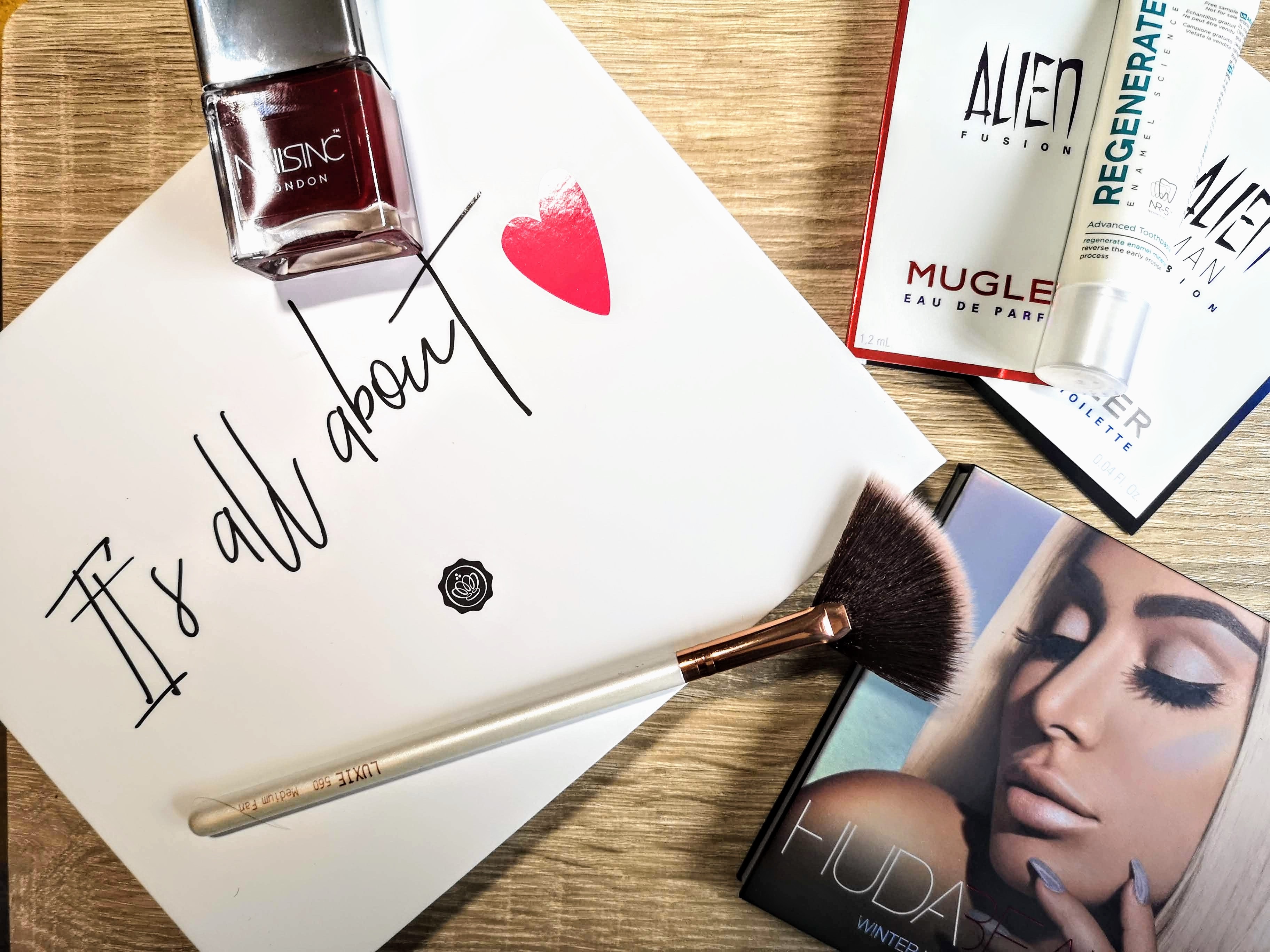 FINAL IMPRESSIONS
HUDA Beauty Lip Contour – HUDA Beauty are definitely capturing my attention as this is the second product I have tried from them and loved! The longevity is amazing and the colour is really pretty. I guess if I were to be cynical I could say that after a while it is a little drying, but then it is a matte, long lasting formula, so I think that's to be expected. The only real criticism is that I couldn't find this colour in a lipstick!

Luxie Medium Fan Face Brush – As mentioned I have tried other fan brushes before and I've not really got on well with them: I've found that as the brush strands are so light and thin, it really struggles to pick up the product. With the Luxie fan brush, the brush strands seem to be a little denser and so I was able to pick up a decent amount of powder. I've mainly been using this with my blush highlighter which is kind of a hybrid of the two products and I've been sweeping this over my cheekbones and upwards and outwards towards the edge of my brow. This has been the perfect brush as I think a regular blush would pick up way too much product, and this provides a lovely light shimmer.
Nails Inc Status Ready Nail Polish – As I said in the First Impressions – you can't really go wrong with this brand or a classic red. I didn't end up wearing this but I have several other nail polishes from Nails Inc so I don't doubt that they're all similar. My main issue is that when I was trying to link to this product, I can't find this particular colour – Status Ready -anywhere on the Nails Inc website. I've had this issue a couple of times from Glossy which is a shame if you love the product you've sampled. If it's no longer available then I think it needs to be made clearer, as once you're looking at the product on the Glossy website, it does provide a link which advises once clicked you can complete your purchase.

REGENERATE Advanced Toothpaste – I wasn't particularly enthused to receive this again as I don't remember having a wow! moment with this the last time I tried it. I used it again for a few days, and once again, it was perfectly fine but not something I would switch my regular toothpaste for. It is a hard one, as for what the toothpaste does, I think it would be difficult to show proven results for the everyday person. It's advertised to act on the early stages of erosion and regenerate enamel – but I have no idea how I would know if this was working. At least with tooth whitening you've got something physical you can see and determine if the product is worth buying, but I think unless a dentist has suggested this is a concern you should have, I'm not sure why anyone would really go out of their way to buy this. Also, and maybe this is being a little picky but I find it disconcerting that to buy this, Glossy links this to the Look Fantastic site. I guess I always thought of toothpaste as being more of a medicinal rather than a beauty product and it was leaving me questioning the science behind it? To categorise it as a "beauty" product would give me the impressions this is desirable rather than a necessity – definitely not the message you want to be sending about oral care. (But as I said – maybe I am overthinking this one!).

Vitamasques Gold Dust Sheet Mask – Unfortunately – my opinion hasn't changed, and I still think sheet masks are a massive faff. I swear it took me double the time to try and unfold this, but which time it felt like half the product was just over my hands anyway, and once it was on my face, unless I'm lying down and planking the floor, I always have to tug this up as it edges it's way down my face. And yup, once I was done with the mask, I still scooped out the remaining product and applied it straight to the skin anyway. However, once you get past all of that – this is actually a really nice product. My skin felt really soft and glowy and if this came in a regular pot, I would definitely consider re-purchasing this. Although, I wasn't too fussed by the whole, "made with real gold flakes." Unless the additional ingredient is actually in there for a good reason and doing something for my skin, then I find adding in gold to be a bit
gimmicky.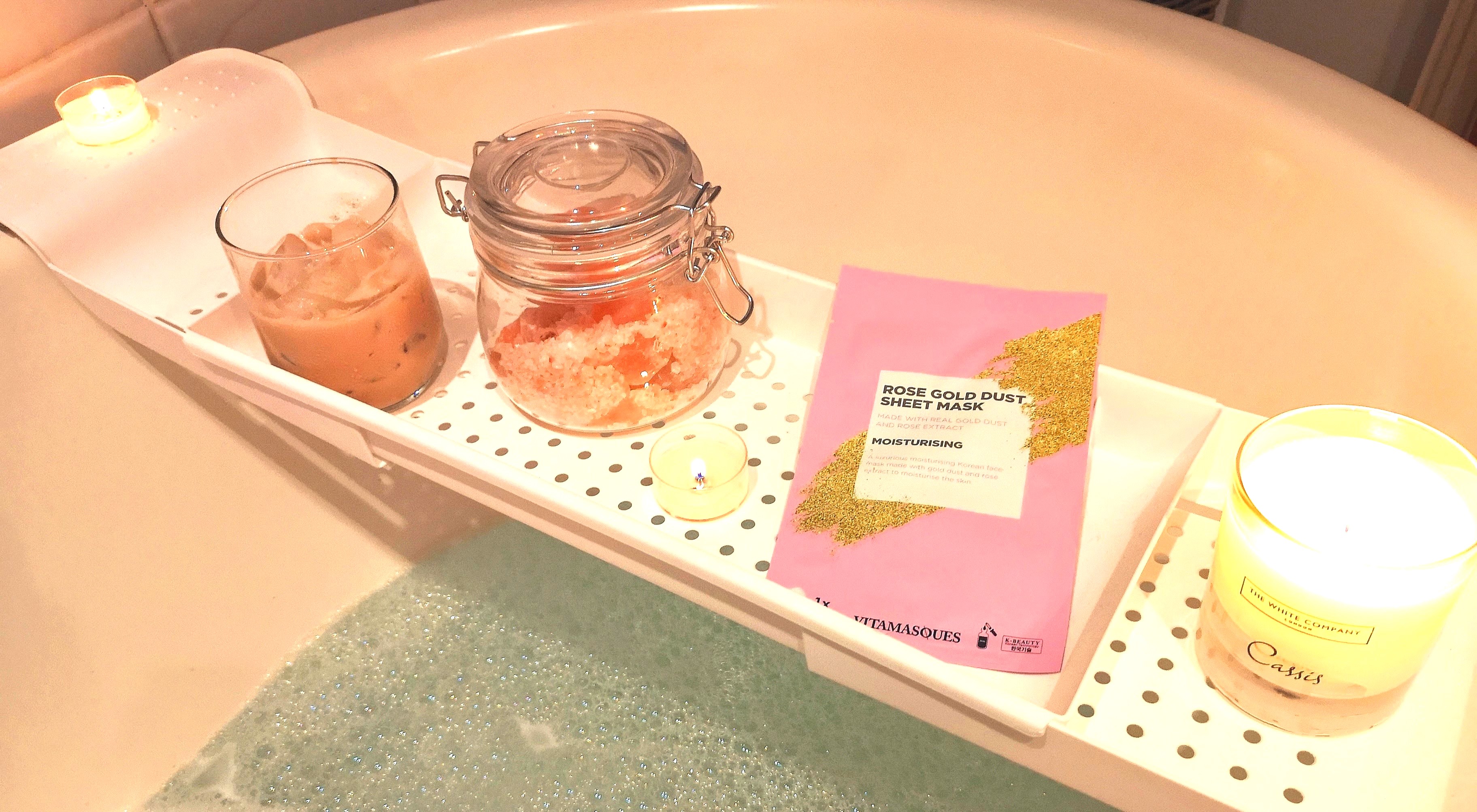 Mugler Alien Perfumes – I really loved that there was a His and Her fragrance, but sadly I didn't like the scent. I found it really overpowering, and I personally like my fragrances to have some complexity to them if that makes sense. This kind of smacked you in the face with it's overly sweet smell and my partner agrees in terms of the men's one. To quote him, "it smells more like a men's body wash or soap then a nice fragrance." Sorry Mugler!
Verdict
Overall, I would say that I was happy with the box this month. Whilst I didn't drool over every single product, I completely appreciate why all of the the products were selected for this theme. A pretty pout, nail varnish, minty breathe, a squirt of perfume, a little highlighter – someone has clearly put some thought into this Valentines box. In terms of value for money – this box has offered an incredible seven products if you count both fragrances, with the majority of these being full sized. The box design is also inoffensive and chic enough that it could easily be used as additional storage without looking out of place. Overall a thumbs up from me.

SNEAK PEAK! The March box will include a lip plumper, smoother and hydrated lips!
If you're interested in becoming a Glossybox subscriber click here for more information.