The first Glossybox of the year is always an exciting one and I'm glad I have finally caught up with *2018's NY goals (*yes 2018….) and am back to writing monthly Glossy reviews. I know this is only the first one of the year but as I managed to write a review on the Glossy Christmas calendar last month- I am counting this a good track record with two reviews in the bag.

In the Box 
1. –417 Aromatic Body Lotion- Worth £13.31 **
2. Avant Skincare Deluxe Hyaluronic Acid Vivifying Face & Eye Night Cream – Full Size – Worth £98
3. HASK Argan Oil Repairing Deep Conditioner – Full Size – Worth £2.49
4. Maybelline Dream Blender Foundation Sponge – Full Size – Worth £4.98
5.Ciaté Wonderwand Liner – Deluxe Mini – Worth £9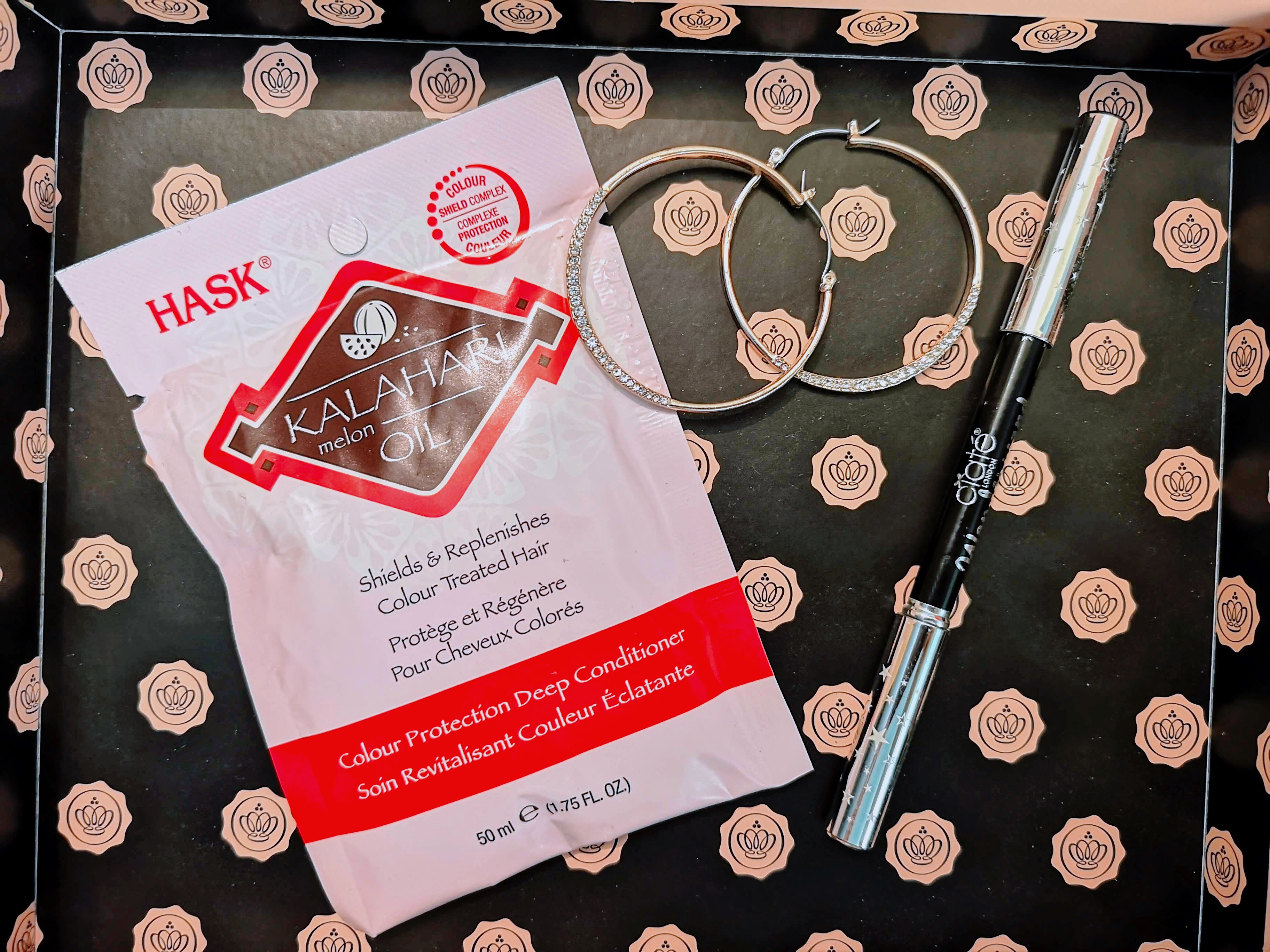 First Impressions
** –417 Body Lotion – so I have highlighted this as I don't think I was meant to receive this particular product. The little card that comes with the box every month with a summary of what is inside says that this should be -417 Facial Micro Luffa Foaming Gel – Deluxe Mini and looking on the Glossy website of all January products – the body lotion isn't mentioned. I wasn't too disappointed by the error (I've been a subscriber for years now and this is the first "issue" I have ever really had so no biggie) but I was a bit mergh about receiving another body lotion.  I have so many that I don't tend to buy them now unless they are a little bit special and I thought a foaming luffa sounded interesting. As it's not on the leaflet, I am not 100 per cent sure if £13.31 is the correct price for the lotion, but I think it's the same pack size so it seems reasonable to assume they are the same price.
Avant Cream – First impressions? For £98 that can' be full size!! But yep – 50ml is a whopping £98! To be honest, it was the pack size which bothered me more than the price. I'm definitely getting to that age where I am starting to invest more in skincare than makeup, so if I find an amazing skincare product which does wonders for my face, then I would invest in it. However for nearly a hundred pounds, I would want a little more for my money so I was thinking – this product to be on another level!!
HASK Conditioner – Being totally honest I was actually mostly exited by the melon scent! I love the smell of melon so I was looking forward to smothering this on my head.
Maybelline Sponge – I already have one of these from a previous Glossybox, so I ended up giving this to my mum.
Ciaté Eyeliner – I haven't tried anything from Ciaté other than their nail products which I do like, so it's always great to try other products from a brand you already enjoy. I am also still on the hunt to find a drug store/reasonably priced eye liner which is long lasting, so I was impressed to see that it was meant to be long wearing, and decently priced too.

Final Impressions
–417 Body Lotion – I was already a little disappointed to have not received the facial luffa  so I was hoping the lotion would be a great substitute, but unfortunately this was pretty mediocre and nothing special. There was nothing dislikable particularly but there was definitely nothing memorable; I tried to give this to my mum but she was a bit underwhelmed by this as well. I hate waste so I ended  up chucking this into my gym bag.
Avant Cream – I hate to say it but I reallllly like this product!!! I've been using this most evenings after my usual serum, and as this is advertised as a face and eye cream I tried using this in replacement of moisturiser and eye cream. I don't know how to describe what I have been seeing as it's not as if that spot has suddenly gone, or that wrinkle has magically disappeared – it's just that my whole face just seems to be my face but better. A happy face. It's been feeling hydrated and looking clearer and smoother and I definitely saw an improvement pretty quickly. As I mentioned I am getting to that age where skincare is becoming more and more critical so I love that this is anti-ageing and targets re-energising the skin  which are important skin concerns to me. I would definitely re-purchase this again based on the product but I am still uhm-ing and ah-ing about the price vs pack size as I would worry if I am using this every day if I would get through this in a month or so, and I couldn't justify paying that price so often. It has that magical ingredient hyaluronic acid but I have seen it in other  cheaper product so I do wonder what ingredient in this makes the product on the high end side.
HASK Conditioner – I haven't used this yet as I am looking to colour my hair again soon so I will use this in the next few months! But I have kept this and will be smelling like a magnificent melon in no time!
Maybelline Sponge – I ended up giving this to my mum primarily because I already have one. However I still don't think I would repurchase as I don't really get the product. Looking at the description I think even though this is a sponge you're meant to use it dry more like a brush  but it feels weird applying makeup with a dry sponge and I don't feel like it spread well and had too much resistance. I think you would need to have quite a specific foundation to sit well with the brush. So it's OK but not for me.
Ciaté Liner – This black liner has a lovely texture: it's really soft and creamy and blends really well. It also has a little brush on the other end which I really like and it helps create a nice soft eye look. I was a bit worried about the longevity of this as it is so creamy ad having tried it – I am on the fence. I tried this over a couple of days and some days it smudged quite badly and other days it wasn't too bad. It found if my eyes watered or if I used a richer moisturiser or got a bit hot and bothered (yes I am looking at you too hot office radiator) then it definitely affected it. So whilst I do like it I think it has to be a thumbs down overall as I couldn't rely on it for every day use and  I don't need that kind of anxiety in my life.
Verdict
So overall, this hasn't been the best  Glossybox I've ever had, particularly as there are two products I've tried to give away which isn't like me and I received an incorrect product,  but I still kinda want to give this a thumbs up just because the Avant Cream is so good! I'm confident the next box will be great though; next moth features a Huda Beauty product and I have rarely had a bad box from Glossy!