Looking back at my two previous Happy New Year blog posts – it's starting to become difficult to not repeat myself. My previous posts seem to have been based around me trying to become more organised, be more creative, go to the gym more – try and upload blog posts more regularly. Well pfffffft is really my best response to that.
And actually that's OK. Rather than focussing on all the things I set out to achieve last year but wasn't able to, I, instead want to focus on the positives and on the great things that happened in my life instead.
Work //
As someone who suffers from anxiety (I am afraid that sounds a little cliche in this day and age, but sadly so common nowadays) work over the last few years has been a bit of a struggle for me. So I am really pleased to say that I have been at my job for around 16 months now, and for me personally that really feels like a massive milestone. To someone else this might seem pretty unexciting, and hardly worth celebrating – but after going through a really rough patch, just having a daily routine of getting up going to work, having some financial independence and being able to contribute more to the bills has been a massive boost to my mental health and self esteem. And once that happens, something else amazing happens too – other parts of your life start to click into place. We are now in a position to be saving for our mortgage and because I am feeling happier in my day-to-day life, I feel better equipped to want to exercise and generally just look after myself more. Which leads me onto my second celebration for 2017:
Health and Fitness//
Just to quickly add – I don't really think anyone can ever tick this box as complete. Being fit and healthy is an on-going process and never something you can achieve as such but I feel you can make this part of your daily routine. Disclaimer number two – I ain't fit and healthy. Yet. But what I am now is motivated. 2017 saw me going on a diet and heading to the gym and to the pool with a friend from work, and for months, I did this at least twice a weak. Frustratingly, for months I didn't see the results on the scales, so I decided to volunteer my loyal companion – fiancee Aaron – to measuring all my wobbly bits once a week. For anyone exercising and only seeing pounds lost in the bank rather than on the scales – I would seriously recommend doing this. There's nothing worse then working your butt off and feeling that you're not seeing the results. I am definitely one of those people who expect instant gratification (I say no to a packet of crisps and immediately try on that dress and wonder why it doesn't yet fit) so to be able to see even half an inch of lard drop off once a week feels bloody amazing! It has seriously paid off going with a friend – especially one that kicks me up the backside and will encourage me to go when I really cba. Once you're working out and feeling fitter, I find it almost impossible not to want to be healthier. Who wants to go through all of that effort of gym followed by 20 lengths of swimming then an aqua aerobics class (yes we do do this on a Thursday!) just to get a takeaway after? So this is what I mean: it all clicks into place. I was feeling happier, so wanted to be healthier, then I wanted to look good whilst doing it! I haven't been at all in December due to being so busy with social commitments and Christmas but I have been back swimming and  getting back on track diet wise and have (reluctantly) thrown the remainder of the cheese board in the bin.
Trip of a lifetime //
Guess what, earning a decent wage means now and then you can buy some cool stuff. Like a surprise 30th birthday trip for Aaron. If this was a regular holiday, then I wouldn't bother mentioning it, but being one of those bucket-list-type holidays means I couldn't not include it. We went to Iceland for four days, and that means geysers, northern lights and natural geothermal spas you can swim in. I won't say too much as I want to do a separate post on it in the next few weeks, but being able to experience something truly incredible and tick something off my bucket list…I don't even have the words, and it really made 2017 an unforgettable year.
Little Heroes Comics Charity //
As some of you may know, my partner, Aaron, set up a charity this year (nope – last year… I wonder how many months I will be saying that for…) called Little Heroes Comics. Whilst this really is Aaron's work, I still feel really proud to be a part of something so inspirational. The charity was created after Aaron got the all clear from ALL – Acute Lymphoblastic leukaemia, and wanted to give something back to the hospital that helped treat his cancer. So he created comic-making kits to be sent to sick children in hospital. What started off as a small idea to make a few kits to send to a couple of children, has grown into a fully fledged charity, we have now sent kits to over five different hospitals, the charity has been involved with interviews and podcasts, we then got funded by the National Lottery, we have just finished a Kickstarter campaign to produce an anthology that a number of talented artists have contributed to, and we will be heading off to a convention at the beginning of February to promote the charity! Phew! You can find more information on the Little Heroes website www.littleheroescomics.com or on our Little Heroes Kickstarter campaign but I wanted to mention this as I think it shows what you can achieve if you really put your time and passion into something. As I said, Aaron has done the majority of work on this but he has really inspired me and is a great example of what one person can achieve (with a little help from me along the way) and to come away at the end of the 2017 feeling like I was able to be involved sending a little something to a sick child, is just incredible and I am looking forward to seeing where 2018 takes LHC.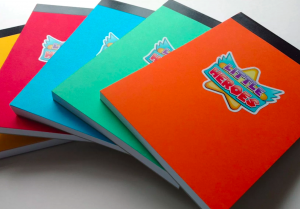 So, I may not have uploaded a new blog post or drawing every week or done a spin class every day or be back shimmying around in my size eight dress (it's still in the wardrobe and I refuse to throw it away!) but actually, I feel like I've done OK this year. I might be at the starting line but at least I feel like I am at least on the right path to feeling fitter and healthier, and just feeling happier in myself. I have had some incredible experiences last year and made new friends, so whilst there have been some ups and downs – I can't complain too much.
If I must make some of goal for next year, it will only be in relation to saving for our mortgage. We estimate we could be out mid 2019 which isn't far away if you look how quickly the year has gone. I am trying to not get overly excited with Pinterest boards of home decor (I have failed) or buy extra mugs we don't need (I have also failed). But providing we stay on track and we continue to be happy and healthy, I don't feel I can really ask for much more out of this year.