2017 for Glossybox has seen me find some great products. I have subscribed to Glossybox and Birchbox beauty boxes for a couple of years now, and after much deliberation, I have decided to proceed with Glossybox and cancel my Bircbox subscription.
Glossybox are a monthly subscription and send out five beauty products, all packaged in a beautiful pink box, or every few months they send one of their themed boxes with a unique design.
This December's box is a festive green with gold letting – "mince pies starry skies". I really like this month's box as the products do feel like they have been hand picked for Christmas. There's a good mix including makeup, bath and skin care products, with a touch more emphasis on makeup – just how I like it!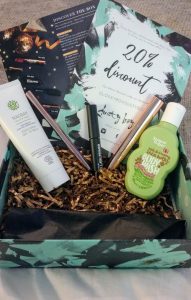 Steve Laurant – Precision Tip Liner 
This liquid eyeliner pen is in a beautiful rose gold packaging and it's compact – the perfect size to fit in your Christmas purse. It's really easy to apply and just looks so pretty! Plus, the fine nib makes it really easy to apply. This does promise to be smudge proof and waterproof, and I did find this smudge around the edges a little after a few hours – although nothing disastrous, and one I would still recommend. Plus, as with common with Glossybox – this is a full size product.
Another full-size product in the box! Model Co is a popular product with Glossybox so I'm not surprised to see another one in the box. I don't tend to use lash primers too much as I'm lucky enough to have fairly full lashes but I did still give this a test drive though and OMG. If I do want massively large lashes then this does the trick and tenfold, and a nice addition for pretty Christmas lashes. I layered this under mascara for a really pretty effect.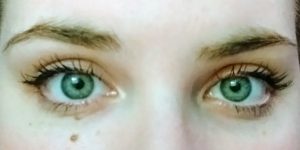 Naobay – Equilibria Gel to Milk Cleanser 
I really enjoy these types of cleansers as I tend to find them more hydrating on my drier skin. It contains olives and almond oils so feels lovely and also smells great. Another bonus is that this is also a full-sized product so great value for money.
This brand also makes regular appearances for Glossybox but it is one I like. Also a lovely addition for Christmas and like the eyeliner this also has a gold packaging making it feel a little more special – plus it matches the writing on the box. This is a really pretty nude pinky-purple colour that feels really comfortable on the lips for a matte lipstick.
Soaper Duper – Rich and Creamy Sea Butter Body Wash
For a body wash this feels super hydrating containing ingredients such as shea butter and monoi oil. For an added bonus this also contains natural ingredients – one of these being vanilla pods – but to me this somehow gives it a smell of white chocolate! I have no idea whether this is intentional or not so I did wonder if I have Christmas on the brain too much – but nope: my other willing sniffer participants all agree that this smells of white chocolate and Christmas cheer.
Overall I am really impressed with the products this month. They feel really on point for the season, the box looks great and I prefer to have more makeup over other products – so the makeup ratio for me is also great. Glossybox are usually good for providing full sized products, and this month is also no exception with 4/5 making this really good value for money.