It's such a shame I haven't blogged about this sooner as I probably couldn't live without these two beauty boxes in my life. I think I've subscribed to them both for about 7 months now (as I think I mention in my Happy New Year! post) so in keeping with being more proactive this year, now seemed like a good time to really knuckle down with my reviews. When I first became interested in beauty boxes (funnily enough it was the bf who recommended I give it a go!) I did a lot of research into which boxes I should try out – and the two in particular that appeared on nearly every beauty box recommendation site were Birchbox and Glossybox. And because they are both so popular, I thought it would be fun to do a bit of a box-off each month and do a Birchbox Vs Glossybox and announce my winner each time.
So if, like me, you're a bit obsessed with a bit of Birch and Glossy – keep reading for my review and my verdict for this month and find out who wins Birchbox Vs Glossybox for January!
Birchbox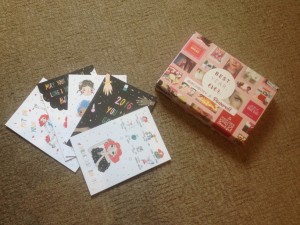 So first of all Birchbox deserves a massive thumbs up for their theme and packaging this month! For January Birchbox collaborated with Pinterest to create the Best. Year. Ever and came a great themed box with 5 exclusive illustrated post cards by illustrator Viktorija Semjonova. I don't usually like stuff like this and most of it usually ends up in the bin but the illustrations were really cute and adorned with quirky little messages so they will be going on my office wall. I think the box will also have nice space on my office shelves also.
The first product was a an eyelash primer by Benefit – They're Real Tinted Primer. It's a minky brown and is meant to be applied beneath mascara for extra volume or can be worn alone for a natural look. For me this is not a product to be worn beneath mascara; it REALLY separated my lashes and gave them a spidery look which just looked so fake and horrible and did not work as a primer for me. Saying that, it did work a bit better as quite a natural looking brow tint. I also tried wearing it today without another coating of mascara, and once I scraped off the excess it did look more natural and wasn't too bad. I generally have a bit of love/hate relationship with Benefit even though Birchbox seem to love it but unfortunately this was a bit of a thumbs down this month.
Next was the Jelly Pong Pong Lighten Up Brightener and Waterliner. I actually have another liner very similar to this from a few months ago from Glossybox which is a So Susan one. I quite like that one but this was just as creamy and very pigmented and worked very well on my waterline as a beautiful peachy brightener, which is a bit softer than a stark white, and also worked quite nicely on my cupid's box. I also tried it on the cheekbones and beneath the brow; it does highlight here but did show up my dry skin a little more. Overall a welcome addition to the box!
Third product was a Three Whishes Almond Body Butter from Whish which is a new brand to me so a welcome addition. I have to say, the fragrance is pretty decadent and if you have read my previous post on fragrances then you will know that I am a sucker for a sumptuous smelly! The smell reminded me of raspberry Disaronno/Amaretto or a battenberg cake! That being said other than that it's just a standard body butter: does what it is meant to do but nothing outstanding.
Next up is the FAHHHBULOUS smelling (and exclusive to Birchbox) Protect and Detangle leave-in conditioner from Beauty Protector. Now I know that a lot of other subscribers already have it from previous boxes so I was happy to join the club! Unfortunately I haven't got around to trying this yet but it has great reviews and the other products I have received from the brand have all been amazing so I have high hopes! It promises to condition, detangle, minimise frizz, protect against UV rays and heat styling!
My favourite product from Birchbox this month is the cleansing water, L'Eau Soir et Matin from Absolution. I have been using it as a pre-cleanser before the rest of my skin routine – and once again – it smells bloomin' amazing! I have recently purchased a tinted moisturiser from the brand after receiving a sample by using my Birchbox points (you get points fro writing reviews/recommendations etc to spend in the Birchbox shop) so I was really happy to try another product from them. I would encourage anyone interested in the brand to check out the Absolution site as it's an organic brand and stuffed with skin-friendly ingredients such as hazelnut oil, potassium, aloe vera, lemon balm and helicrysum.
Last but not least is the Birchbox beauty bonus which was in the form of a little Compact Mirror. The packaging feels a bit naff, I won't lie, and it doesn't have a flap so will probably get dirty easily but I love the little #nofilter hashtag on it which on-trend and gives it some quirk.
Glossybox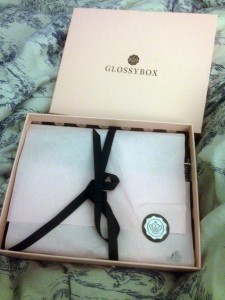 Glossybox occasionally do a theme but if not then they stick to their luxurious pink box with their pink tissue paper, black bow and signature sticker.
First things first, Glossybox have included a whopping 4 full-sized products! And the fifth is a "luxury" size. This isn't the first time Glossybox have impressed me with the number of full-size products in their boxes and on this alone, I was thoroughly impressed .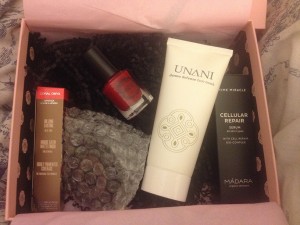 First up we have the Dermo Defence Face Mask by Unani. I should have mentioned earlier that when I first took Glossybox out of the black packaging I just got this whiff of a sweet scent that came wafting towards me – and it was from this. Even me, the scent seducee, was a bit concerned the mask was going to be overwhelmingly sweet, but actually when I put it on, it was a pleasant light fragrance and nothing overwhelming at allIt wasn't a usual face mask that I was expecting, but went on like a gel that absorbs into the skin and then you wash it off after ten minutes. It's meant to care for sensitive skin and keep it protected, hydrated and nourished. This left my skin soooo soft and in the morning (I used it before I went to bed) my skin just felt smooth and supple and lovely. Really enjoyed using this and looking forward to using it twice a week. 🙂 Thumbs up from me!
Next we have an exclusive Glossybox eyeshadow in mauve.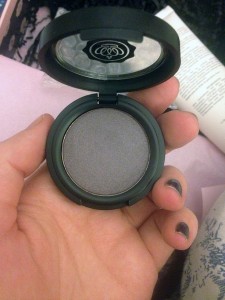 Just realised the picture is not great as the eye shadow t is a bit warmer than what is  portrayed….I tried it during the day but personally think it was a bit strong for a daytime look. It went on nicely and didn't crease so I am happy to try this again for an evening and smoke it out a bit more.
Thirdly we have a red nail varnish by Angele Paris. It's not a brand I have heard of, but to me, a nail polish is a nail polish. I don't actually have a scarlet red colour so this was a nice addition to my collection. I am wearing it on my tootsies and it had a nice application and appears to be lasting well with the top coat. Only downside is that although it is a full size, we got a nail varnish in the Christmas box too so I would rather not have one again for a while!
Next we have my favourite product from Glossybox and probably one of my faves from the beauty boxes from a while. It's the only product luxury size, rather than full size and it's a Cellular Repair Serum from Madara which boosts complexion and radiance.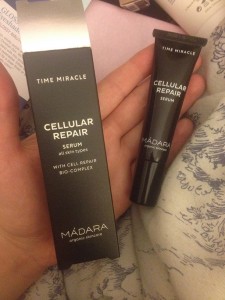 I have heard of the brand I think, and I love receiving serums! I have really really dry skin so anything that promises to help hydrate and radiance gets a massive thumbs up from me. What makes this a stand-out is inclusion of birch-juice, which apparently the beauty world are buzzing about at the mo – so it has a beautiful birchy, woodsy smell which is divine, especially before bed and goes onto the skin really easily, taking only 30 seconds to melt into the skin. I love waking up in the morning and feeling my skin uber-soft and supple and hydrated! The first glossybox I had contained a serum from Noxidoxi which I really enjoyed using until this came along. Unfortunately, full price is a whopping £38 but you do only need a tiny amount. I should be using this sparingly but I have used it every day twice a day so far!
Last but not least is a satin, Oasis Gem Lipstick from Teez Cosmetics which is new to me.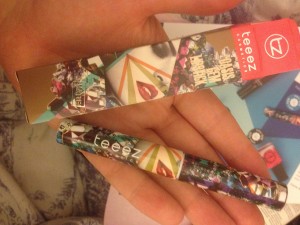 I was actually thrilled to get this as my friend got this in her box a few months ago and raved about it. The packaging is so cute – so I kind of loved it a little bit already… it's extremely pigmented and not a colour I would usually go for in winter as it is very pinky ( I tend to go for reds) but the colour is still beautiful and has made it's way into my hand bag. The only thing I would say is that I would make sure my lips are fully moisturised first as it can by a teeny bit drying after a few hours.
Birchbox Vs Glossybox: The Verdict
I have to say this was a bit of a hard one. The January boxes haven't made it easy as there have been aspects I love from both boxes. Birchbox included Absolution and hands down, they definitely have the quirky element this month with their theme and packaging and mirror and the quirky little mirror and the gorgeous little drawings. Glossybox have gone for quality with four full sized products and one luxury item and I have been really really happy to receive every single product from Glossy this month. So therefore, on the basis that there are products I can take and leave from Birchbox this month…the winner has to be Glossybox! At one point it would have always been Birchbox (even though I still loved Glossy) but lately, Glossy have really been impressing me with their sample sizes and some of the quality of products.
I hope this post hasn't been too long; I have tried to be as thorough and as honest as possible because I know I like loads of detail and an un-biased opinion when reading others' reviews on things.
If anyone has any feedback on this post then please leave a comment, or send me an email or tweet me! I would love to hear any comments that anyone has or any thoughts anyone has on their own boxes too!
Watch this space for the next Birchbox Vs Glossybox box-off! Next one will be for February! Can't wait!
Thanks for reading! 🙂
Kate X