When my other half presented me with a seemingly no-strings-attached gift, my face immediately twisted into its "pensive" expression, trying to figure out what offence he may have committed. After successfully confirming the washing had been done, my chocolate remained in one piece and that Houdini the fish was still alive and well, I was able to relax and enjoy my present. My gift was one of fruity bananas, summer and happiness all quirkily presented in a cute banana-shaped bag, containing a body wash, body butter and a shower cap.
The Body Shop created their summer limited edition Banana Beauty Collection. On the website there are other banana-based products such as banana truly nourishing shampoo, conditioner and hair mask, but from the Go Bananas range with the funky design, you have the shower cream, body butter and body yoghurt. However, as part of a July special edition, my other half managed to obtain this cute banana bundle from one of the reps leftover from the July Special Edition range which is why I've got the bag and the shower cap.
Summer may technically be over, but the warm, humid weather is showing no signs of leaving so I don't feel too out of season writing about this. It was fortunate that I received this right before a family holiday with the in-laws to Devon where I really had a chance to test the range in conjunction with sandy beach visits, hot sun and dry skin.
The shower cap, cream and butter came in a really cute, good sized banana bag with a fun banana pattern and little banana related phrases like "Go Bananas" and "Bananas over you" in a pink and yellow design, matching the shower cap. The inclusion of the shower cap was a bonus as I've been meaning to pick one up for ages and the bag is big enough that it can be used to hold future toiletries. In terms of the design – to be honest, I'm not usually a fan of gimmicky things but I genuinely really love this; it's impossible to look this and not feel happy and summery (or hungry for a banana!)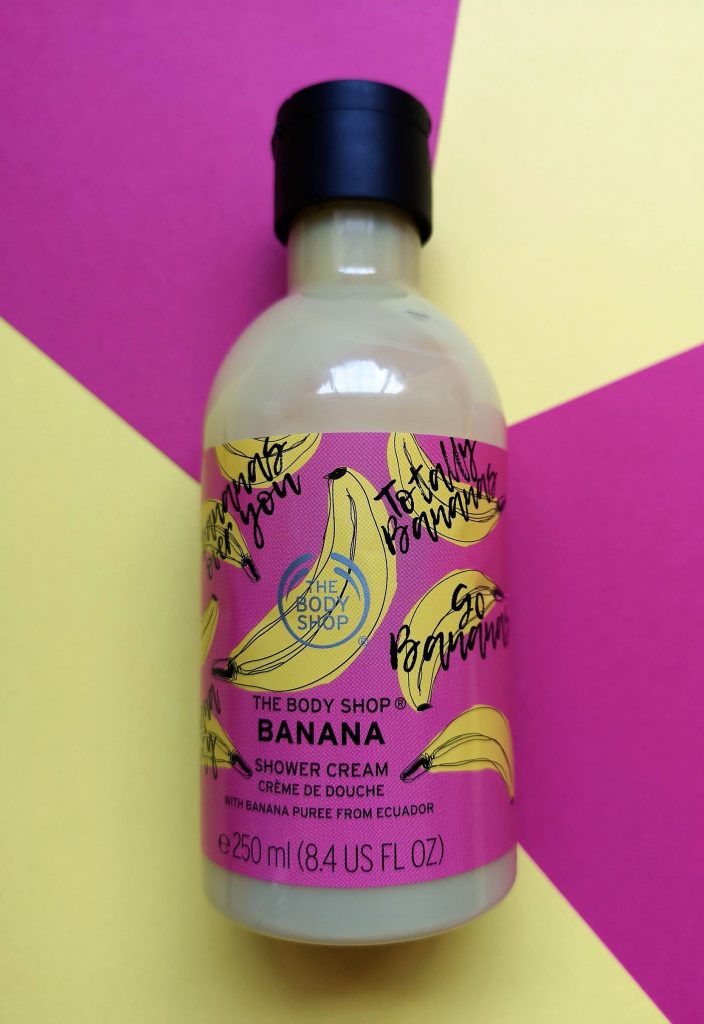 The body butter and shower creme were both full size and have a really strong, sweet banana smell which I like, but then I think if you're going for a fruity, banana flavour then give it 100% welly! For the body wash cream, the smell transitioned well; I find some shower products smell amazing but once you actually get them on your body they can fall a little flat but this wasn't the case. It lathered up nicely and left me feeling clean and fruity and didn't dry my skin out, plus a little went a long way.
The body butter was also lovely to use. I haven't owned a Body Shop Body Butter in years and this was as delightful as I remembered it to be: soothing and moisturising leaving my skin feeling hydrated and soft. I purchased Body Shop products mainly as a teen due to the lower price point but as I got older I started branching out and trying new brands, and I kind of forgot just what good quality Body Shop products are.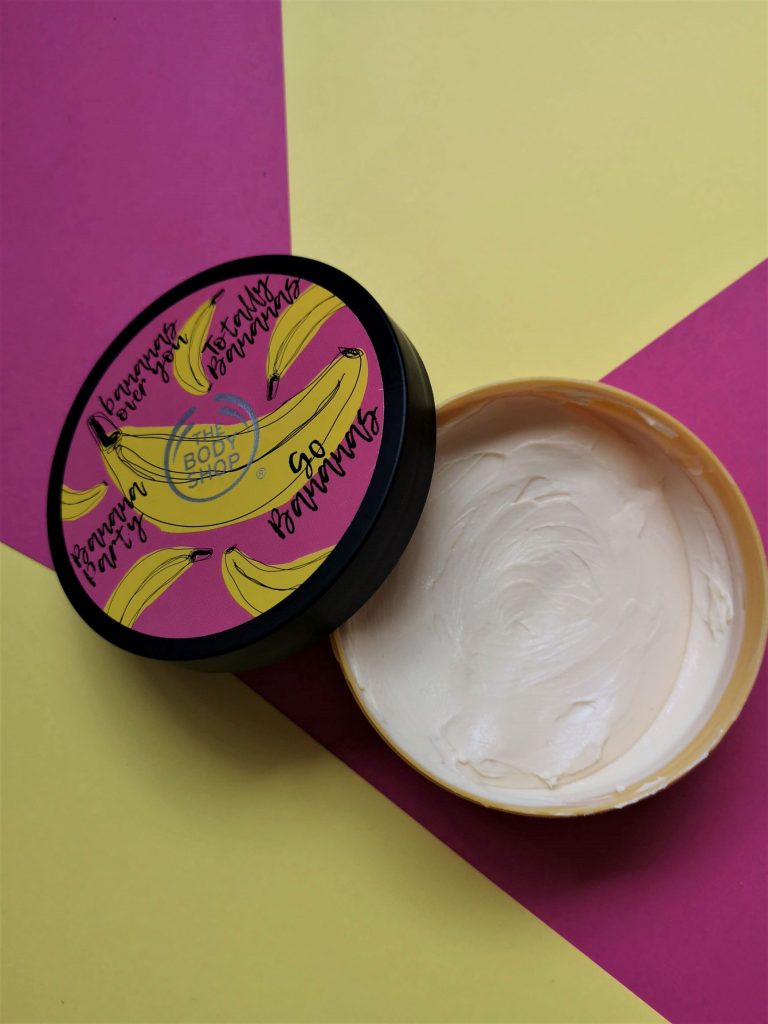 The first time I used banana shower cream and body butter was, appropriately, after a visit to the beach and it just really enforced that summery, beachy, happy vibe and has continued to do so now I am back home. It's also been a nice change to have a summery scent that isn't pineapple or coconut which can be typical summer cliché fragrances.
As mentioned, this particular package isn't available but the items bar the shower cap can be individually purchased via the website.
If you're disappointed that the bag and cap aren't available I then I would keep an eye on The Body Shop's seasonal ranges which often include special edition pieces.