I was hoping that now we have hit March that spring would have sprung and we would be starting to say adiós to the last of the chilly weather. After the arrival of the Beast from the East (that got incredibly annoying after hearing it for the tenth time…) came and disappeared, I imagine that a lot of Brits got very excited at the prospect of warmer weather and started relocating their sandals to a higher shoe shelf. But no, after teasing us for a few days with blue skies and some bright sunshine (at least down where I am), that didn't last long and the Bitch is Back with strong winds and snow. With this in mind, I thought I would share my favourite slow cooked beef stew recipe for when it's cold and frosty and we are all nursing chipples (chilly nipples <– see what I did there?).
I think I must have found the basic  recipe years ago, but I have modified it to my liking. One of the great things I love about stews is how versatile they are. Providing you use a basic recipe –  beef, stock, seasoning and veg kinda thing – I think after that what you chuck in it is up to you.  But here's mine and I find it absolutely delicious and I love cooking this when I want to be warm and cozy.
I would recommend having a read through this before carrying out.
For larger, hearty portions – serves 4 people. Smaller portions – serves 6 people
Ingredients
900g diced stewing steak

Aprrox 2.5 tablespoons plain flour

Salt and Pepper

Approx 1 -2.5 tablespoons of garlic puree (or the fresh equivalent, the amount depends on how garlicy you like it)

1 bay leaf

1 teaspoon paprika

1.5 teaspoons Worcestershire sauce
350ml stock using 1 beef stock and 1 ham stock cube dissolved in boiling water
1/2 cup of red wine
2 shallots, diced
3  large potatoes,  (don't chop too small)
2 large leeks (don't chop too small)
4  large carrots, (don't chop too small). If you don't use carrots then I would use another sweet veg instead like butternut squash – the dish is quite rich and salty so having a sweet veg helps balance the flavours
Squirt of ketchup
2 teaspoons of sugar
Fresh Tyhme
Beef gravy granules (optional)
Dumplings (optional)
I'm lazy so I  like to use the  Atora suet dumpling mix in that blue, red and yellow box. You can follow the back of the box for the recipe, which basically involves adding cold water and self raising flour to the mixture. I like to enhance this a little by adding a good few cracks of salt and pepper, a teaspoon of paprika and a teaspoon of mixed herbs.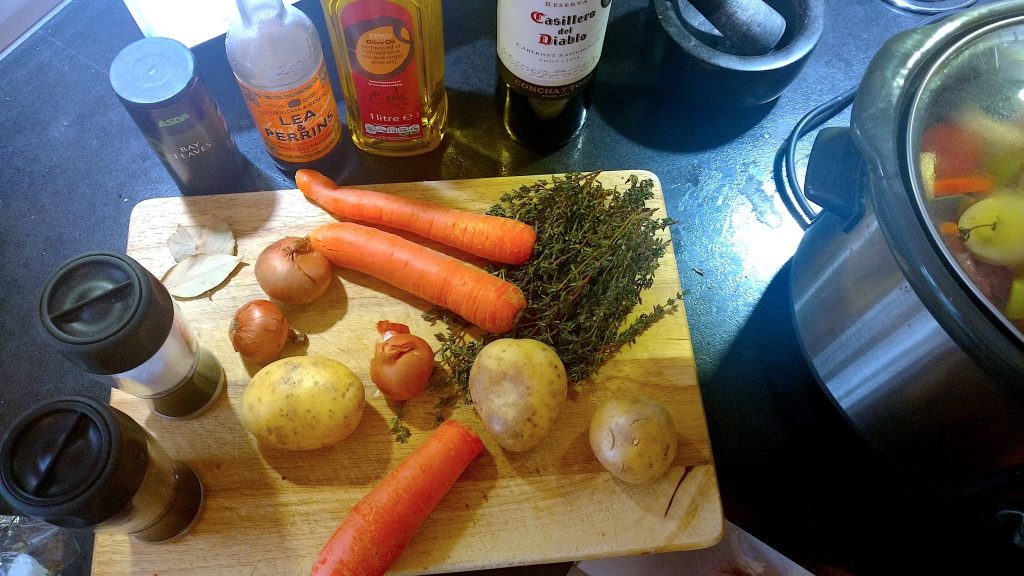 Method
Place beef pieces in slow cooker. In a small bowl mix together the flour, salt and pepper; pour over meat and stir to coat beef with flour mixture.
Add in all of the chopped veg
Pour over the stock and red wine then add the Worcestershire sauce, paprika, 1 tablespoon of garlic puree. Then add the bay leave and a few sprigs of time – I usually use about 4.
Slow cook at a high heat for 4 hours, stirring occasionally. After the 4 hours, I start to do some tastes tests; I like to do it at this point as it has given the flavours a chance to develop  and gives you an indication of how the dish will taste, so I start thinking what else I might want to add. I won't lie – I love garlic, so I usually add in another tablespoon of this, then to give it a bit of sweetness I do a few squirts of ketchup for that acidic tomato flavour plus a teaspoon of sugar. I find adding something sweet makes the dish a lot richer when combined with that garlic savoury flavour. Depending on the taste, I may finish off with a touch of pepper, possibly another dash of salt, maybe a final squirt of garlic or 1 more teaspoon of sugar. Just remember, every time you make an addition just keep tasting before adding anything else to make sure it's to your liking. You may find that you think it doesn't need the additions, but this is just what I like to do to achieve a really strong, flavoursome and rich dish.
for the fifth hour, turn down to a medium heat
For the last 6th hour turn this down to a low heat. If adding dumplings I make these up then add these during the 6th hour then let them cook at the slow heat.
This is optional, but at the end of the 6 hours, if you want a thicker consistency, I tend to add in a few of the gravy granules. I take the dumplings out first, add the granules, give it a stir then add the dumplings back in.
Serve hot – but remember to remove the bay leaf and the thyme sprig stalks.
Serving suggestion: A nice glass of red wine and some warm crusty bread with butter. If serving smaller portions, I sometimes add a side of rice. I have this either plain, or if I want to jazz up plain rice, I like to add salt and pepper, some dried oregano and add a ham stock cube to the water before draining. Alternatively I really love the Morrisons brown rice which is so flavoursome and has quite a rustic, nutty, earthy kind of flavour which I think goes perfectly with this hearty dish.
Whilst I personally love this recipe, I am by no means any kind of chef! But all of my willing victims have all said this is delicious and I have made this a few times now, so I hope you enjoy it as much as I do! 🙂