Hi guys!
I really wanted to do this post, as even though it's getting towards summer and it's getting warmer and the nights are longer because it's lighter for longer and we're a lot busier in the evenings… doesn't mean we still don't want a Friday night in cuddles up on the sofa by ourselves.
I've read a couple of blogs in the past with dedicated posts to this, but a lot of them seem to be focussed around being rather active. Now, I don't mean to make it sound like this is a dirty word, however – my idea of a cozy night in is being in a vegetative state for as much as the night as possible, not going to the gym or or learning a new art and craft activity or attempting a new recipe I've never tried before.
I would be totally up for doing any of these things any other night, just not on my chillax night, so keep reading for my favourite tips for a lazy, snuggly evening in.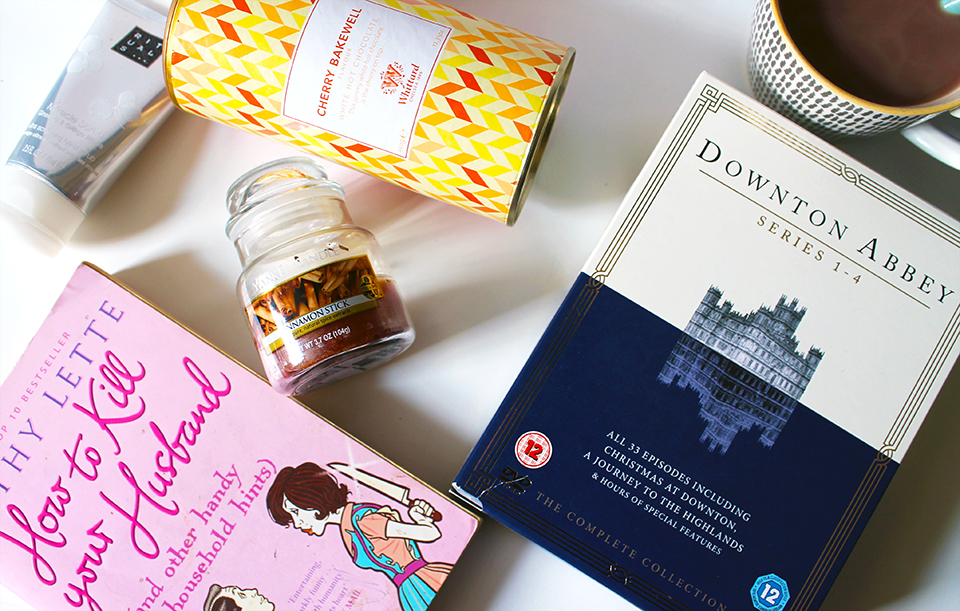 Pamper
First of all – this might seem like an obvious one – but I love a good bath! You can't beat it. However, I do like to kick it up into ultimate relax mode. Firstly, I make sure I use the right bubble bath, or essential bath oils – usually something like lavender that relaxes the muscles and smells heavenly. My little tip is that I that I like to use a good dash of of baby oil. It makes the bath water feel almost silky and when I'm out – it makes my skin feel so soft and smooth. Like a baby's bottom! And just to finish off: a few scented candles – I particularly like Yankee Candles, and for a decadent evening in – I really love my Yankee Christmas present where you burn a block of scented wax but the candle sits underneath. Very relaxing.
Once I drag myself out of the bath, I like to pamper my hands a little too. I've been loving the Ginseng & Ginkgo miracle scrub from Rituals. It's a hand exfoliator which is new to me, and it has very fine beads like sand and the nourishing oils leave my hands really soft, and the smell is absolutely beautiful – kind of like a sweet fresh washing/fabric softener kinda smell. I.e. heaven. It's such a comforting smell for a warm and cozy night. I like using a hand cream after and one I like is the Crabtree & Evelyn avocado, olive and basil hand cream which leaves my hands soft for hours and has a lovely sweet, creamy smell that also lasts for ages. My all-time favourite is exclusive to Birchbox: Beauty Protector Beauty Cream Body Lotion. I only use it as a hand cream but you can use it all over. The smell is de-VINE and leaves your hands soft and moisturised for hours.
The Hunt
Now I'm all soft and silky at a time when there's no one round to enjoy it – it's time to get some grub in my pie hole and hunt down the snack. Anyone that knows me will know that I am totally bonkers over nachos. That crisp crunch of the oven-baked salty nacho; the oozy gooey hot melted cheese lazing thickly over the top, the zesty tang of guacomole…. the sharp jab of heat from the salsa followed by a cooling sigh of relief of sour cream… ahem.
Seriously get yourself down to the supermarket, grab a pack of old el paso nacho kit. Then all you need is some cheese, guac and sour cream as it comes with the salsa. I really love snacking and having something to pick at so this fits the bill as the perfect savoury snack. If I really want to jazz it up then I pop some chopped spring onions and freshly chopped coriander on top. For my guac recipe, I like to use a ripe smashed avocado, approx 1.5tsp olive oil, half fresh tomato, small handful of freshly chopped coriander, approx 1/4 of a red onion, a generous squeeze of fresh lime juice, cracked black pepper and sea salt (I sprinkle, taste, add more if necessary but I use a fairly generous helping).
For an alternative savoury snack – it has to be, crisp and crunchy sweet potato fries. I would love to own my own personal recipe but unfortunately I don't so I use one that I found online which works great for that extra crisp and crunch. The only adjustments I make are that I personally don't use the curry and garlic powders (even though I bloody love garlic!), but instead a good crack of sea salt as I really like the contrast with the sweetness of the potato. Again – these are great with sour cream and are a great picky snack. (If you're feeling lazy you can always grab some pre-prepared ones from the shop).
Bellissimo.
The Entertainment
You're pampered, you're feeling good, food's cooking so now you need the entertainment. Personally I love the big rectangular thing on my wall. Now I love a good film, but I also love TV series as they are brilliant for obsessive watching and it's something you can get your teeth into and, if you're like me then I usually love to watch about 10 episodes in one go!
I watch so many TV shows that I actually have to keep a list of everything I watch otherwise I'll forget. Some stuff I watch with Aaron and other things I watch only Sunday mornings or when I get in from work, so I've tried to specifically pick ones that I think any gal might love for a night in for one, and these are ones that I have watched with my duvet and ice cream several times:
The Easy To Watch Comedies
F.R.I.E.N.D.S – I don't mean to start with something obvious but, come on – who doesn't love Friends?! It's so easy to watch and even though I've watched every episode since I was like 16, it's still a favourite and something I know I can pop onto the background and still enjoy whilst saying their lines with them.
How I Met Your Mother – If you like Friends then you will love this. It's a similar setup with a bunch of friends who have their watering hole based at a bar…a pub… hmmm (is there a difference?) anyways it's centred around 5 friends and just the funny stuff they get up to but the core theme running through it, is that one of the main characters – Ted – is actually telling the story of how he met his kids' mother. Most of the episodes are stand alone but there are some brilliant storylines running through it, and yeh it's really funny and my bf likes this a lot too.
The Medical Dramas
House – this is a medical drama based around a medical team who only take on the most bizarre cases that have other docs scratching their heads. The main character is Hugh Laurie who is somewhat of a genius but also the grumpiest and rudest dude on the planet. But the storyline is interesting, and actually pretty light-hearted for the most part (in my opinion so far – I haven't finished the series yet!), but this is really good of you love medical dramas and Laurie's character Dr House is just brilliant.
Grey's Anatomy – the medical drama that ticks every box: I've never watched a show that's had me experience such a range of emotions. I've been screaming at the TV, laughing my head off, been in FLOODS of tears… it's just amazing and you don't really need to be into med dramas to LOVE this. It's centred around the main character Meredith Grey and her fellow surgical interns and the other doctors. I was a bit late to the game but when I started watching this – I think I got through the first season in under a week – so seriously ladies, even if you want to stare at dreamy hot guys – just watch this, you WON'T be disappointed!
(If you love this as much as me – there's a great spin off series called Private Practise – which focusses on the life on one of the characters who appears later in Greys, but don't watch it first as it might give some things away!)
The Dramary Dramas
The Affair – at first glance I thought this was going to be a typical Americanised cheesy series, I mean it's initially centred around Noah – a happily married, solid family man who has an affair with an emotionally fraught waitress. How unoriginal, thought I. But after watching a few episodes it's not cheesy at all and now having watched 2 series, I realised it's a beautifully filmed, provocative and thrilling drama that gives us a very honest portrayal of the physical and emotional ramifications of an affair. And what keeps it interesting is the murder mystery running through it and that it's told from multiple perspectives, so just when you think you've made up your mind on something – you'll see everything from a different point of view and it will throw a spanner in the works. I can't wait for the third season and I would definitely recommend this.
Downton Abbey – If you love British period dramas but with a very modern twist then you'll love this. It's based upon the lives of the rich aristocrats – the Crawley family – and their servants who live below in the servants quarters. It's set in the early twentieth century but as I said isn't dated at all, it takes older conventions and makes it a bit more current which makes it really watchable, and great to have on the TV if you're looking something light and easy but with a bit of scandal thrown in!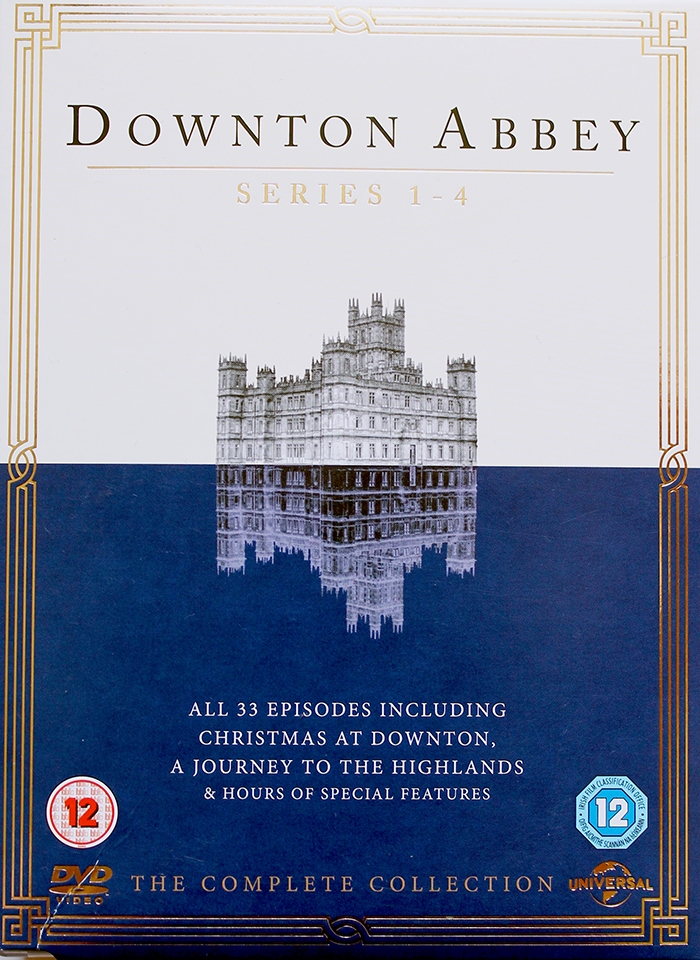 The Supernatural Dramas
The Vampire Diaries – I had to throw this in, this reminds me of my uni days with my housemate, Emma, and how we used to watch this endlessly whilst drooling over the likes of Ian Somerhalder and Paul Wesley. We agreed Emma could have Ian and I would keep Paul for myself. Because, obviously, one day we will meet them.
It's based on the book series which I think is pretty naff (I gave up after book 2) but the TV series certainly isn't. It's a bit supernatural teenagey but not too PG so if you're looking for a drama, a bit of a thrill, some sexy vamps and other supernatural creatures twinned with a so-wrong-but-right love story then this will float your boat for any solo evening.
(Again there is a spin off to this called The Originals – but you need to watch The VD first!)
True Blood – another supernatural series, but seriously kids – this is for adults only! We have vamps, but not the nice twinkly, sparkly ones, the ones that might sexually assault you and then kill you before ripping your head off. There's also werewolves (where my future husband is introduced) and fairies and shifters and other weird supernatural creatures. It's not exactly a horror, but damn close as it gets pretty gory and bloody with a lot of steamy sex. All of this circles around the main character – Sookie Stackhouse, a polite, young southern waitress who lives with Granny, until her world is basically turned upside down when the world accepts vampires into mainstream society, and gives them synthetic blood to live on instead of humans (not that a lot of them comply with this rule) and one such vamp wonders into Sookie's restaurant one evening. This is based on the book series which is also amazing and definitely worth a read.
Chic-flic films 
Dramas – The Notebook – a beautiful love story between Noah and Ally – I don't need to say any more – just watch it, and the Age of Adeline – about a young girl who isn't able to age so distances herself from forming meaningful connections with the rest of the world. These are such lovely films and need to be watched!
Rom-cons: How To Lose a Guy in Ten Days and The Women. Actually I don't know if you can call The Women a rom-con when there's no men in it. True, main character Mary finds out her husband is having an affair, but the film is entirely sans-penis; I even read that the animals in the film are female! It's one of those power-to-women films but it's really funny, and also great if you're feeling a bit peed off your other half, or just menfolk in general.
How To Lose a Guy in Ten Days – this isn't new and possibly a little predictable but just has a hilarious storyline between a couple 'chosen' for each other. Andy drives her new bloke away for a magazine article whilst Ben is desperately trying to make her fall in love with him so he can prove to his boss he should be chosen to head an ad campaign. You can see where the film is headed but it's such a fun storyline and a great chic-flic for a cozy night in.
I hope that's given you a fair mix of what to watch! I thought I would mention though, if you are more of a book person (as I often am) then some light hearted books to read are:
How To Kill Your Husband (and other handy household hints) by Kathy Lee. You can probably get a sense of the type of humour based on the title; it's very tongue and cheek, very witty and just had me cracked up from beginning to end. It's based around the lives of three characters: Jazz, Hannah and Cassie and how they try and band together when one of the women is arrested for their husband's murder.
The other comedy is the Bridget Jones series by Helen Fielding. I haven't mentioned the films in this as I want to include these in a future post but the books… OMG – have you ever been drinking some orange juice and literally spat it everywhere? Or been laughing so hard that your giggles turn into the unattractive gasping grunting noises, like that of hyperventilating, yet randy pig on heat? Well these are some things that happen to me when I read these books (so probably best to read alone to avoid the embarrassment). They are so well written and so funny… you just need a glass of wine and you're good to go.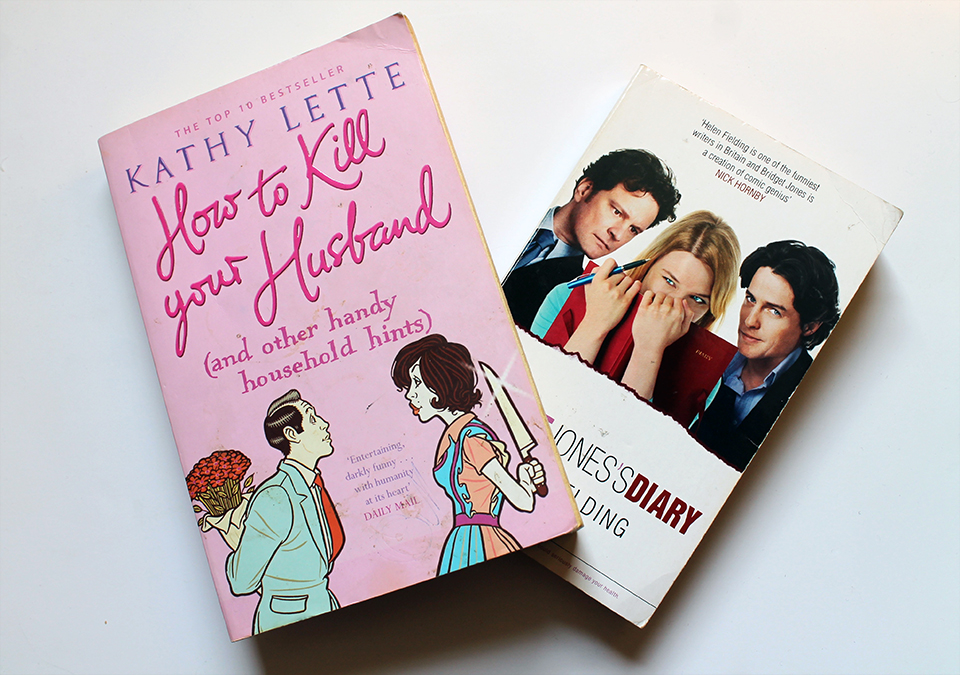 My last entertainment recommendation isn't a book you read but a colouring book! My bf bought me one and, this might sound funny but it really is mentally relaxing. It's aimed at adults rather than kids, If you ever just want to chill out then just doodling and colouring in is surprisingly therapeutic. Have you ever been on the phone and just picked up a pen and started randomly scribbling? It's the same thing – it's not anything you need to think about it, it's just something relaxing and non-stressful, and it's something you can do on the sofa to music, or, heck, why not colour whilst watching Friends? I can't remember where my particular one was from, but Amazon do a variety and so do a lot of local supermarkets.
Wash it down
I've mentioned Baileys in the bath and wine with Bridget Jones. I'm very partial to a good drink (hehe), but I'm going to end this with a glass of steaming hot chocolate. But a special one.
About 2 months ago I think…Aaron and I popped into Whittard tea shop in Bromley and we sampled (and then purchased immediately!) three hot chocolates, and they are the Salted Caramel, Rocky Road and Cherry Bakewell flavours.
It was the Cherry Bakewell one we tried in the shop which made us purchase all three of them as they were doing a deal, and it's probably the best money I have every spent. If you've ever had a Bakewell tart, then this is EXACTLY what it taste like. But it's not sickeningly sweet, it's just the right balance and it's honestly liquid happiness in a mug. Aaron's favourite is the Rocky Road which is also great and does taste like that fun, rich, chocolatey dessert. The salted caramel – now I can't taste the salted caramel in this as much and to me just tastes more like a luxury hot chocolate, but it's still really rich and dreamy and I am still glad I purchased this. They do so many other flavours as well but these were three we picked and I am really happy with our selection.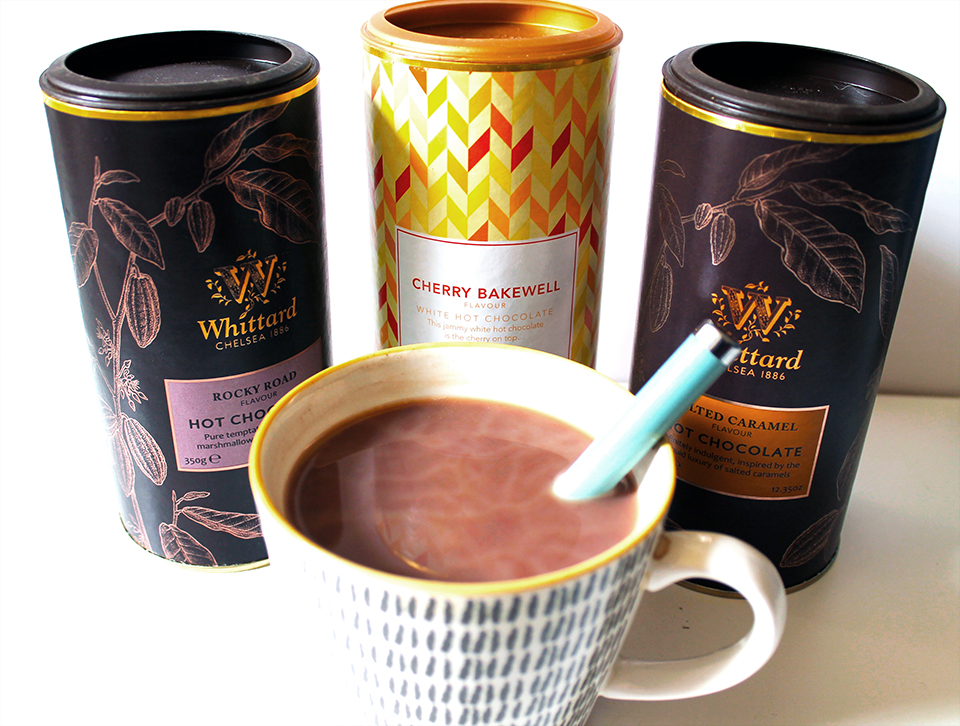 So that was my last recommendation for a cozy night in and I hoped you have enjoyed reading. I hope I am a bit worried about rambling but there is just so much I wanted to include and it's really hard picking our favourites so I hope this has been a relatively balanced read and not been too long!
If anyone has any suggestions I would love to hear them as you can't ever be too relaxed at the end of the day. 😉
Thank you for reading and I hope you will read my next post too!
Kate X