I'm so excited to be doing my second Birchbox vs Glossybox! I really enjoyed writing about the previous box-off and I'm gutted that I haven't been able to find the time to keep up with it, but I am determined to keep on top of it this time!
Glossybox

So I'm going to start with Glossybox, and this month was a selection of nail care, some facial products and two beauty products. I found this a great selection as beauty products are always my favourites to receive.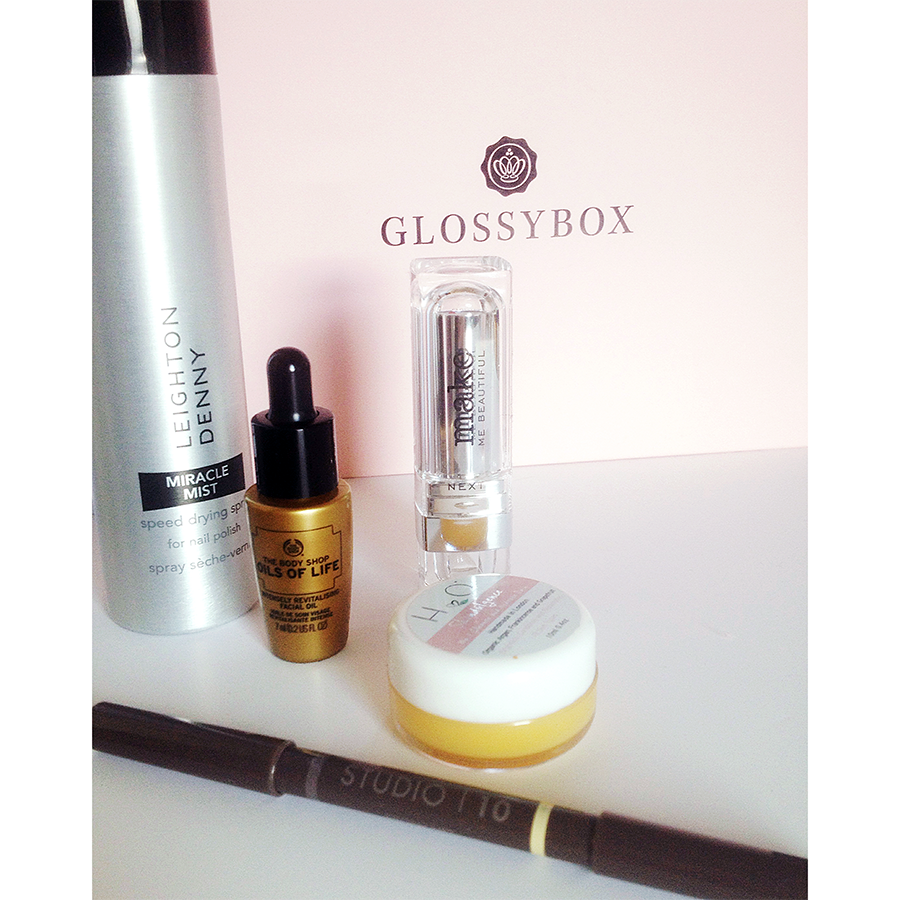 First up was the Studio 10 Brow Lift Perfecting Liner which has two integrated pencils: the main shaping pencil and a highlighter. It has a creamy texture which has made application easy. I'm always bit dubious when brow products claim that it "works well with hair colours." My hair is a light-medium brown with some blondish bits making an appearance here and then. Considering the spectrum of hair colours that the pencil promises to cater for, I would consider my shade to be somewhere in the middle, not exactly black hair or pale ashy blonde! Personally on me, I found this a bit…rich? If that makes sense. I prefer brow pencils with a greyish undertone and although the colour is a moderate brown the colour is very warm, and even applying it subtly, I think it's quite obvious I am wearing brow pencil. I don't dislike it but I would imagine only wearing it for an evening when I want a bolder more obvious brow.
Next we have the Oils of Life Intensely Revitalising Facial Oil from The Body Shop. I think everyone received this this month and I was excited to try something from The Body Shop as I feel it's a brand I often forget. Known for it's nutrients and restoring properties, this is meant to replenish, revitalise and revive. I like to use facial oils before bed and I found in the morning my skin felt very soft and smooth and did indeed feel 'plumped' and hydrated. Oils are usually good for me as I have dry skin and it has a pleasant, light scent.
I was excited to try the nail Miracle Mist by Leighton Denny; I have never tried anything like this before and thought it was a great addition. I've used it twice now on two types of polish and top coats. The first time I applied two coats of nail polish then my Seche Vite top coat and gave it a spray as directed. I nervously tapped my nails and I was pleased to say they felt pretty dry! Now, the next time I used it, I used it with two coats of polish, my Barry M top cote then a glassy finish polish to make it shiny, before finally spraying. This didn't seem to work as well, as most of my nails had dried pretty well but one or two were definitely not  ready. I'm not sure if it was the Seche Vite that helped my nails dry before or I might have had too many cotes second time round, or I wonder if it didn't work as well with the glassy finish polish. I will continue to experiment with this but either way I'm glad to have it in my kit and it's nice to try out different products.
I love collecting lipsticks so my eyes were little love hearts when I saw this Lipstick by Next. I really love the packaging, it looks really sheek and I didn't even know they had a makeup line so was excited to try this. I received the colour sugar pink which is a quite bright raspberry pink. The colour did scare me a little as bright pinks don't tend to suit my skin tone and unfortunately this turned out to be true. In its favour, it's very pigmented and creamy and the longevity is good: it was still on after my chicken curry! However, it's just a little too bright for me, but I will try again in the summer when hopefully I have a bit more of a tan.
Lastly, I received H&O skincare Skindulgence facial balm. I definitely saved the best until last! Full price is £42.50 which is pricy but actually I think it's totally worth it. As I mentioned I have quite dry skin so this is a dream for me but I can see this working on oilier complexions too. I scoop out a small amount and give it a good massage into my face for several minutes then gently rinse with warm water. It leaves my skin feeling ah-mazing; it feels soft and clean and fresh and hydrated. I love waking up to the feeling of my face! Also I love that it's organic and cruelty free and vegan (and more!) Well done Glossy!
Birchbox
Hello Birchbox!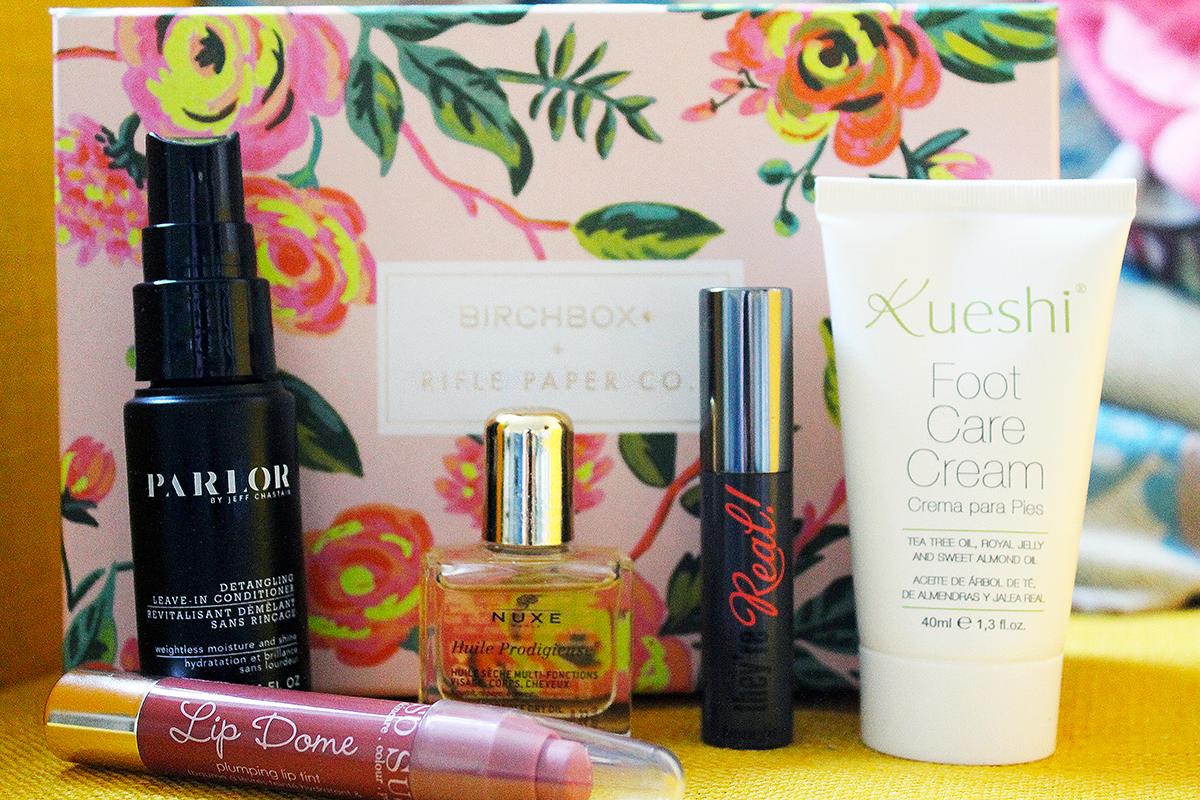 This month Birchbox have put together a nice little collection: there's something for the lips, the hair, the feet, the eyes, the face and body so a great variety for April.
I'll start with the feet first which came in the form of a generous sized tube of Kueshi Foot Care Cream. To be honest, I don't really have a lot to say about this: it's just a foot cream, really. It does everything I would expect in that it gives a bit of softness and a bit of hydration but nothing much stands out. Apart from the scent, but not in a good way. Some people might like it but the smell of tee tree is so overpowering and not one I particularly like when its that potent. I wouldn't not recommend it in terms of quality but I certainly would not pay £12 for the full size. Saying that I do appreciate that feet can get neglected and Birchbox have tried to remember them!
I'll be a bit more positive here, and I have a lot of love for this next product: So Susan Lip Dome in Melon. I'll be completely honest when I saw this I did roll my eyes a bit at another So Susan product, but I totally take back the eye roll as I have used this lip stain nearly every day. The longevity is good but on ah-mazing, but I carry a mirror so it doesn't take that long to reapply; it's in a crayon pencil too which makes it easy to pop back on, but what I love about this is the colour. It's the most beautiful nudey brown but with a slight bricky-coloured undertone rather than a pink undertone. I've never really been brave enough to try a brownish nude but I am so love with it and the subtle orange tinge suits my skin tone perfectly and funnily enough kind of counteracts the redness in my cheeks. I usually reach for my Clinique chubby stick in Bountiful blush which is my go to every day pomegranate colour but this might be my new favourite nude. When this runs out I'll be re-purchasing immediately! It also smells lovely and is really hydrating on the lips.
Another favourite from Birchbox this month I received was the Nuxe Huile Prodigieuse body oil. It's so versatile as it can be used on the face, body and hair and is a blend of 6 essential oils. I have used it on the ends of my hair and in my pony tail to keep it smooth and tame crazy ends, and also as a facial oil at night after cleansing before I go to bed. I usually can't stand multi-purpose products; I would much rather have one product for one particular purpose but I will happily make an exception for this. It was great for my hair and left my face feeling really hydrated and beautifully soft and the fragrance is lovely. Just a great cupboard staple and one I will definitely repurchase. I actually think I prefer this to the Body Shop facial oil and it's over £10 cheaper.
Another favourite of Birchbox is their bum chum brand Benefit. Again, I know Benefit is a Birchbox staple and I appreciate loads of people love the brand but I have always found it a little hit and miss and found the packaging better than the quality. It would be nice to see some make up products other than Benefit. I have heard mixed reviews about the They're Real! Mascara, and the name certainly reflects the product: my lashes were very dramatic and looked huge! And it didn't budge all day. It's quite a bold look for during the day but I definitely liked this more than I expected and is definitely a trustworthy, reliable mascara .
Lastly. I received the PARLOR by Jeff Chastain Detangling Leave-In Conditioner. Phew!
Firstly this smells beautiful and I was pleased to read that it is effective both as a detangler and as a heat protector. I was disappointed to see that it looked a bit sticky in the box like it had had a spillage from another product which as an initial reaction made it look a bit cheap and crappy, but the contents were definitely up to scratch! It definitely helped smoothed out my hair and left it soft and sleek. Also it's great for colour treated hair so massive thumbs up from me and one I have used regularly!
This has been really hard with both boxes sporting some firm favourites, some mediocre product and products I don't love so much. I uhmed and ahed for so long that I decided to rate each product out of 10 and tally up, and for me the winner of the Birchbox vs Glossybox for April is: BIRCHBOX!
Although Glossybox has put up a lovely selection this month with that amazing facial oil balm, I feel that Birchbox had more great quality products across the board and I feel I will probably get a little bit more use out of the products as a whole. Also I had a sneaky peek at some of the other alternatives in the April Glossybox this month, and I am pretty relieved I escaped the henna tattoo, whitening toothpaste and  generic looking moisturising cream. It looks like Glossybox have paid attention to my beauty profile (the moisturiser is for oily skin) so I commend them for that!
Even though I'm not keen on the Birchbox foot cream, it's a good excuse to wangle a foot rub from the boyfriend!
I would love to know what everyone else thought of their boxes too!
Thanks so much for reading 🙂
Kate X