Omgosh, it's already April and I've not blogged since January! MASSIVE FAIL.
I was thinking of trying to write a brief summary of the last quarter, but remembering last week can often be a challenge without a massive prompt, let alone February which seems like a life time ago. Therefore, I thought a little round up of my favourite things for March & April would be a nice compromise.
I had to start with my favourite things and that obviously had to be food!
So first up are AVOCADOS!!! If anyone follows me on instagram then you might have already seen my pic of my avocado based breakfast (you can find my own recipe for avocado brekky on here). Now I have always loved a bita 'cado (hello nachos and guac!) but recently I've just gone a bit crazy over them! Seriously, crushed avocado on toast with some warm grilled tomatoes, runny poached eggs and you have achieved heaven in my opinion. I always thought they were a bit fatty, but apparently they are healthier fats, the kinds you kind in olive oil and from what research I have done, and they come with a nice handful of health benefits such as high in vitamins, antioxidants, minerals and fibre.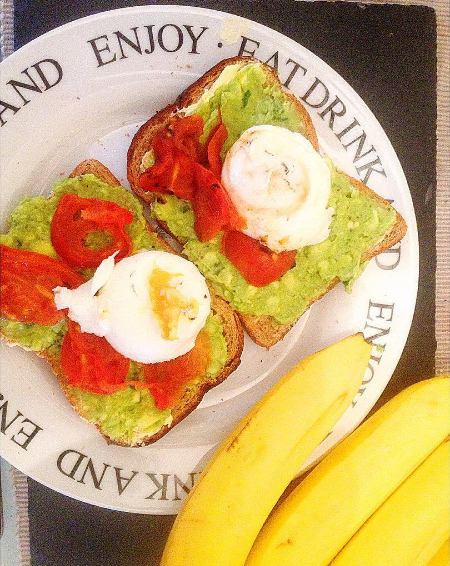 Also my second foody favourite of the last several weeks has to be carrots. The humble carrot. I've been pairing it with dip, mainly hummus and taramasalata. I've bought low-fat hummus but haven't been able to find a low fat taramasalata and to be honest, I'm not even sure if they do it in low fat form. For those who don't know taramasalata is the pale pink dip that salty fish lovers will love! The saltiness paired with the sweetness of the carrot again is such a wonferul flavour combo, I kid you not I couldn't be bothered to cook the other other night so I actually had carrots and sliced red peppers with these two dips for dinner. I must have eaten about 5 carrots so I may look a little Essex tanned soon but it filled me up nicely, and that's not always easy as I am a piggy (but I'm working on it slowly…).
Now on to the beauty favourites!
I have a few beauty boxes in month I would like to rave about but I think I might do that in a separate post so watch this space! But in terms of some of my favourite individual products this month, these include a little selection from Lord and Berry, Nicka K New York, No7, Lush and Garnier.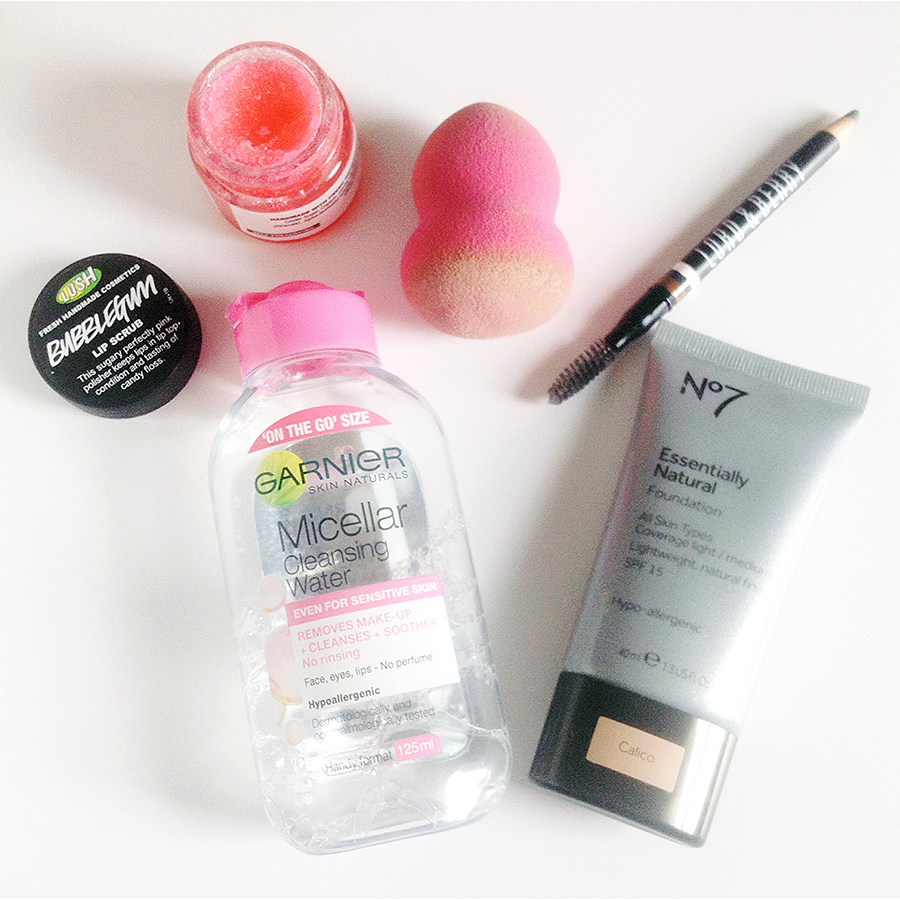 Now I was initially a bit dubious about purchasing the Lord & Berry Magic Brow pencil as I have tried a few things from the brand before and wasn't particularly impressed; it's always a shame when a couple of products can put you off the entire brand but I saw this and thought I would give it a go as I have only really got into doing my brows recently and the marble tip really attracted me as I'm not a fan of the severe look and I prefer to opt for softer more natural looking brows.
So the pencil rather than being one colour consists of three colours and I went for Wonderful in #1704 which is a mix of dark brown, light brown and white. It also has a little brush on the end for a some brow grooming – a bit or brooming (I have such a bad habit of mixing my words!). Now this colour is pretty much perfect for me. I was blonde when I was a kid and in my old age my natural colour is somewhere between a very dark blonde or a kind of mousy brown so my brows are kind of a light greyish brown which means they are a pain to match up as most pencils I have found to be a bit too dark or rich or has a chocolatey-red undertone. But due to the grey undertones this really does suit me perfectly and I have tried a few other pencils but I have so far gravitated back to this every time!
Unfortunately I haven't had the pleasure of the Real Techniques sponge or the Beauty Blender which I have only ever heard wonderful things about, so I was happy to give the Nicka K New York sponge a go which I got in a beauty box (I forget which). The first time I used this was, indeed, my first sponge experience of the face, and I have to say, I thought what the hell do I do with this?! I had heard you had to use it wet so I chucked a bucket of water over it only to find it practically diluted my foundation so instead I tried it dry, only to find it applied patchily and far from a smooth finish. Frustrated I chucked in my unofficial 'disappointment' box. Then several weeks ago, I rediscovered it again and thought what the hell, let's try it again. After watching about a million beauty blogs I cautiously ran the sponge under the tap for a few seconds then squeezed out the excess. Popping a few dots of foundation evenly over my face I then dabbed and tapped, et voilà!
I suffer from quite dry to extremely dry skin so for me this is now a dream! I had been using the Real Techniques foundation brush and it had been working well for me but it still brushes over dry patches and encourages dry patches to shine through. I have also tried the buffing brush but between the three, this has been the most effective and also the wet sponge is really cooling.
The only downsides are the usual bummers with beauty sponges: mainly that it's a pain in the backside to clean, and I do find the hourglass shape a little impractical but I make it work but I would like to try the miracle complexion sponge.
Perhaps I should have mentioned this before the beauty sponge but I think the most successful product to make my eyes turn into love hearts is the No7 Essentially Natural Foundation. I used the match made service and was paired up with my better half Calico which I was expecting as despite my ruddy red cheeks, I have some pale skin beneath there somewhere. I have tried so many foundations and not one has managed to survive the trauma of sitting on dry skin. My main problem was that foundation would go on OK but then after a few hours (if that) my dry patches on my cheeks, forehead and around my nose would pop back out. I wasn't expecting much from this foundation as it is so cheap compared to some of the high end foundations but this is honestly the best foundation I have ever tried for dry skin. With a damp sponge it applies well and the longevity is amazing and lasts throughout the day. It does what it says on the packet in that it's light/medium coverage as it is buildable and it does have a completely natural finish; it really does look like second skin so it's great for day time wear.
The only negatives I would say is that it doesn't have any radiating or illuminating properties so perhaps not as suitable for evening if you want that glow and the dull grey packaging somewhat reflects this, but don't be deceived -this is an overall, great, everyday foundation which lasts well and even covers my red patches whilst still looking a natural second skin. This is staying in my kit and not budging.
It's crazy to me that before November, I had never even heard of Lush until my bestie bought me some Lush goodies for my birthday and now I've probably spent 10 hours in there over the last few months as well as gifting the brands to family too! I popped into the Canterbury store last month just for a little mooch as you do and came across edible Lip Scrub. It literally is luscious lip loveliness that you exfoliate your lips with and can then lick it off due to the natural ingredients. I have it in bubblegum but I think it also comes in popcorn and a minty one too. Be warned it is very sweet and does taste a bit like what you think bubblebath might taste but in small doses it's great! It's such a fun little product and well worth the price I think and, as I said – you don't need a lot so it does last.
Last but not least on the beauty line up, is my Garnier Micella cleansing water – again a gift form my friend which I was over the moon with as I had had my eye on it but had never got around to buying it. This is such a great go to product for a quick fix and I reach for it mainly in the evenings if I just want to go to bed and I don't want to go through my whole cleansing routine if I'm tired or I don't have time. A few drops on a cotton pad and it removes dirt and makeup and eye makeup in a few seconds. If I've had a particularly heavy makeup day then sometimes I will use it as a pre-cleanser to remove makeup before my usual routine or if I'm short of time in the mornings. I just think everyone needs this in their kit as a staple. Effective and such a good price too and available to buy online or from a choice of stores.
Last but not least is a podcast my boyfriend and I have recently finished and been addicted to called Serial. I know I've been a bit late to the game with this but we were recommended Season 1 which documents the case of Hae Min Lee, a high school student who went missing after school one afternoon in 1999 and resulted in the arrest and trial of ex boyfriend Adnan Syed. The podcast is hosted by American journalist Sarah Koenig who investigates the entire case from the beginning as she sorts through documents, listens to extracts of trials and interrogations and carries out her own interviews of anyone involved with the characters. She remains objective and unbiased throughout giving listeners a unique insight into the trial and conviction of  Adnan Syed. She uncovers prejudice, sketchy statements, changing alibis and so much more. Aside from how gripping this podcast is, Koening has a refreshingly pleasing voice to listen to and we would often listen to the series in bed or on car journeys. Seriously, if you're into criminology or crime drama or something like the TV show Making a Murderer then you will love this. It's completely captivating as Koening tries to uncover the truth behind the question in everyone's mind: Did Adnan Syed do it?
Thanks for reading! I'm trying not to be rubbish so I'm already working on my next few pieces including my next seriously overdue Birchbox vs Glossybox.
Kate X