Over the years, as my love of makeup has grown, so has my relationship with Tanya Burr cosmetics. I started watching her YouTube videos maybe two or so years ago, and it was only a matter of time before I purchased her cosmetic range.
Lipsticks
The first thing that drew me to the range, without doubt was the range of nude lipstick colours. It was around the time I purchased my first MAC lipstick, RUBY WOO shortly followed by LADY DANGER (when I say shortly, I mean immediately after within the same bank transaction) and was obsessed with these bold colours for months, but then I started to realise that I wanted some every-day, work-friendly nudes.
My first nude experience (the non head-turning kind) was a nude Rimmel lipstick a friend got me for Christmas, which was much too pale for me and made me think of that overdrawn black eye, too-dark brows and pale, white-lipped, washed out look I hated so much. But then I tried pairing it over a darker red and bam! I gots me a pretty nudey, reddish pink colour. After that and a bit of research, I realised that not every nude was designed for creating ghostly makeup tutorials and I started looking out for peachier nudes. Enter Bear Hug, my first Tanya Burr Cosmetic experience.
Shortly after I purchased Pink Cocoa and survived on these alone for months. More recently, I have also purchased Sunday Walk, Birthday Cake and for a slightly bolder statement – Big Kiss -a classic red with that glamorous slightly brown warm undertone which I love! All of the lipsticks are so comfortable to wear and not at all drying and the price is on point. As with most high street brands, the issue with a cheaper price point is usually the longevity, and these are no exception. If you want something longer lasting I would definitely try the liquid lipsticks which are a fast-drying matte formula.  Although the colours aren't right for me as an every day wear – I wore Puppy Paws for Pink Lady Hen Night and it lasted most of the night with little transfer.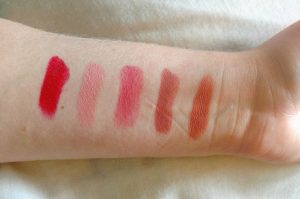 As I mentioned, the lipsticks aren't matte so they won't last all day so you will need to top up, but add £6.99 per lipstick, topping up the stash isn't really much of a burden and they are so comfortable and fade consistently rather than in cakey clumps. My favourites remain Bear Hug and Sunday Walk. SW is a pretty, my lips but better pinky tone with a slightly cool undertone and Bear Hug is a paler, peachier nude with I thought would be too pale for me but actually looks perfect without washing me out. I think because these are so buildable and moisturising you can apply a little and blend it into you lips to give you a subtle colour. Same goes to Birthday Cake, which should be the total wrong colour for me, but using a small amount on my finger and working it in works well.
Eyeshadow
Dragging myself away from my the lippies, I am also a massive fan of the Tanya Burr Cosmetic Eye Shadow Palettes. I have Enchanted Dreams and recently acquired My Escape. The former has a  romantic, lilac undertone which works well with my skin tone and is lovely for both day and evening with a good choice of shades for both night and day. The latter I like for a more summery look with a warmer, golden undertones. Again, the longevity is the only thing that lets it down but they do fade evenly, and whilst these aren't ridiculously pigmented, these are buildable so can be worked to create a bolder look. But overall, for a high street brand, I don't think you can go wrong.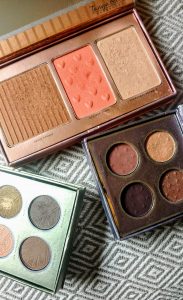 Palettes and Face
The other palette I have tried is is the peachy cheek which ties in with the eyeshadow palettes in terms of pigment and longevity. Although in this scenario, this actually worked in my favour: I don't usually wear blush as I have a lot of red in my face but this is a really complimentary peach which is blendable and buildable and although lovely for all year round. However as a whole, this has been my absolute go-to nearly every day during summer. The highlighter and bronzer have a little bit of shimmer but not too much so it's really pretty. I don't tend to wear bronzer as it makes me look like – that girl has got makeup on – but over a tan, this really adds a beautiful natural sun-kissed glow.
For a less shimmery highlight, try the Cheek Illuminator which is a cream product in a handy stick and I find is best applied by smudging a bit onto your fingers and tapping onto the face rather than direct from the stick which can disrupt the makeup.
Selfie Collection
To round off, what has been a wow factor are all products from the Selfie Collection, which include the mascara, eye liner and brow wax stick. Come rain or shine I have used these products nearly every day! For a high street product, I have been so impressed with the quality – they have proven to be easy to apply, waterproof and non-transferable. I don't think any of the products are advertised as waterproof (correct me if I'm wrong) but you'd think they are. I am particularly impressed with the eye liner. I actually have waterproof eye liners which don't last as well as this. The mascara gives more of a natural look rather than full on fakies but this definitely buildable. I have the brow sticks in two colours – the light and the medium and mix and match them. Again, easy to apply and they have a useful little brush on the end.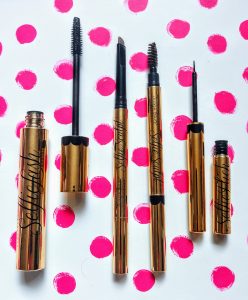 Check out the range at Feel Unique