2016 has been a burst in beauty for me. Before this I was a bit of an amateur when it came to brands and products, so last year was really about me getting a feel of the kind of products that I enjoy and seeing what works for me.
I have discovered some really great beauty items over the last twelve months, many of which have now become staples in my beauty collection and ones I will be re-purchasing for this year. It's hard to remember everything I have purchased, but easy to recollect my favourites and there's a mix between skin care, makeup and perfume.
Skin Care
I'll mention my first re-purchase briefly as I have already done a blog post on this but this was one of my favourite products from last year, and that's the Garnier Micellar Oil-Infused Cleansing Water. It's such a quick fix and effectively removes the majority of crap from your face and is extremely affordable.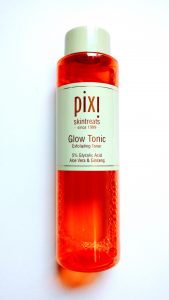 I haven't found a facial wash I am in love with yet, but following a scrub with whatever I've got in the bathroom cupboard, I have been really enjoying the Pixi Glow Tonic. It claims to tone, brighten, condition, cleanse and give your skin a glow. I can't exactly say I was glowing after using this, but what a difference this makes!
Due to the presence of glycolic acid this also acts as an exfoliator and you can really feel this working from the first use. It's meant to be appropriate for sensitive skin, although I'm not convinced as around sorer patches – it doesn't exactly sting, but you can feel something going on.
Overall it leaves your skin feeling so clean and fresh and zingy and soft. I think the "glow" comes from the fact that this is so effective at removing dead skin cells, that you're only left with beautifully fresh, clean skin. The tonic smells wonderful as well; it's very unique but I would imagine that's due to the amount of skin-friendly ingredients packed into this like glycolic acid, witch hazel, aloe and horse chestnut.
This product is a cult classic and is so popular with beauty enthusiasts and bloggers, but after using it for around five months, this is totally worth the hype and one I can't wait to buy again once this runs out.
Makeup
I can't believe it's taken over twenty years for me to get my hands on a MAC product, so when I went sniffing around the MAC counter, I ended up buying two lipsticks and a lip liner.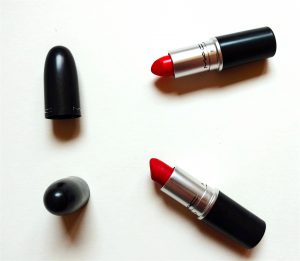 Honestly, I hadn't planned to buy anything so I was just swatching some colours, and immediately Lady Danger jumped right out at me. It's the perfect matte firey orange-red  that I was looking for. I used to shy away from orangey colours as I naturally have a lot of red in my face, but actually, I find it very complimentary to my skin tone and naturally just seems to brighten my face. I find it's the pinks that tend to clash the most so now I go either orange bases or for cooler undertones such as purples and blues.
Although I had no intention of purchasing Ruby Woo this epitomises true classic and is one I always hear about, so I wanted to have a look and see the colour in the flesh. Or on the flesh as it turns out as I was quickly persuaded to try it on.
Well, what can I say? It looks[ed] ah-mazing (although the colours have come out annoyingly similar in the pictures grrr). It perfectly embodies that classically beautiful shade of red that I can see would suit a variety of skin tones, and I think it worked on me because of the blue-red tones; it's just the right balance between red/blue/pink and is extremely flattering. It's also totally matte so the overall effect (as well as Lady Danger) is very vivid, and both lipsticks definitely have that wow factor and are long lasting.
the Balm: Mary-Loumanizer: I have subscribed to Birchbox  monthly beauty box for over a year (read my previous posts for reviews) and had some points to spend in the Birchbox shop. I was hunting for a new highlighter and wasn't quite able to afford the likes Becca Shimmering Skin Perfector or Hourglass Ambient Lighting Powder (wanting these so badly it's even on my Shoes Wishlist!) and I had heard good things about this. It doesn't look like much from the photos but don't let that fool you: it has a lot more shimmer than what is papped and works beautifully as a highlighter and as a delicate eye shadow colour across the lids. It's really buildable so it's very easy to create a subtle highlight or a  full on shimmer. For under £20 this is well worth investing in as a lovely every day highlight and one I will be repurchasing.
I must have about twenty mascaras that I have just been overhauling from over the years but there are three in particular that I have been loving from last year.
Clinique High Impact Mascara and No7 Lovely Lashes Mascara – I'm lumping these two together as I find the over effect to be very similar. I really like the brushes on them and they both achieve the day look I tend to go for in a mascara – separated and lengthening but with a natural flutter. It's really easy to build up and I have found myself reaching for one of these most days for a pretty daytime look.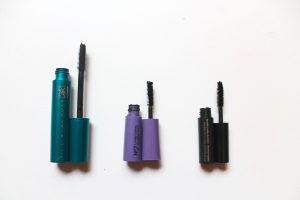 The other mascara is a surprising one actually and is the Avon True Colour SuperShock Max Volume Mascara – Black. I actually received some lovely Avon gifts for Christmas and this mascara was included. Again, totally buildable and gives a really great finish. This is a little more dramatic than the previous two but still great for during the day and can easily be used for a dramatic night time finish without looking OTT. A really great all rounder. I am cheating a little as I have owned this less than a a month but I thought it was already worth a mention.
Moving onto hair products, I'm not very good with my hair care, I must admit, but there's one thing I have totally fallen for in a couldn't-live-without-it-get-panicy-when-I-lose-it kinda way, and that's the wet brush.
I've been using a tangle teaser for years, although I was getting to the point where I wasn't finding it as effective. Someone at work recommended the wet brush to me and I actually received it shortly afterwards in a Birchbox.
I have really thick hair which is fairly long so this was an absolute dream. It glides pretty effortlessly through the hair leaving it smooth and tangle free. I can have a shower, sleep on it wet, wake up with a bushy disaster and the brush will sort it out easily.
No matter what your hair type, everyone needs this in their life!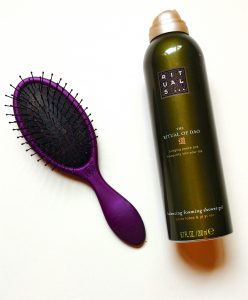 There is one body product I have been obsessed with last year and that's the Rituals Foaming Shower Gel in White Lotus & Yi Yi Ren– I absolutely lurrrrve this. Every Rituals scent is incredible and this is no different. A lovely way to shilzzle up your shower, this body wash comes out as a gel but once the water hits it, it becomes a puffy fluffy foam. The texture is so lovely and leaves my skin beautifully scented and feeling incredibly soft afterwards. I also have the organic rice milk and cherry blossom scent and Aaron uses the bamboo & cedar wood.
I think I've saved the best until last and that is my Jo Malone perfume in Wood Sage and Sea Salt.
I discovered this ages ago when I wondered into Jo Malone and began spraying. I didn't go in with anything particular in mind and I had never heard of this scent before, and Jo Malone was a relatively new brand to me, but the moment I got a whiff of this, it was love at first squirt (if that doesn't sound too odd).
With this I have found my scent. It's the most beautiful balance of woodiness, sweetness and freshness without being too much of any one thing.  It has a top  note of ambrette, heart note of sea salt and sage makes up the base note. From the first time I gave this a sprizz, I literally couldn't get this fragrance out of my mind! It sounds crazy that I went to sleep thinking about this! Therefore I was straight back at the counter when payday came along and I won't hesitate to re-purchase once this runs out.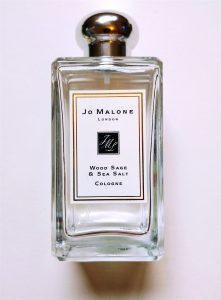 I still have other fragrances that I really like which I have written about in a previous post but this eclipses them all and is now the one I always go back to.
I received the  basil & neroli cologne for Christmas which is more androgynous then other fragrances that I have tried and is very clean and fresh and mixes well with the wood, sage & sea salt. I like to use this as well if I'm feeling a bit groggy in this mornings as the refreshing scent is very uplifting and gives me a little boost when I'm rubbing sleep out of my eyes.
When I purchased my fragrance, I received a small sample of the blackberry and bay body cream. I know this is one of Jo Malone's signature scents but it's popular for reason and this is next on my list!
I love this as the scent is quite tart with a sharp edge which is a great alternative to the usual sweeter fragrances. It has top notes of blackberry, heart notes of bay leaf and a base note of cedarwood. I've had to use a lot of willpower to resist slathering myself in this but I can't wait to get a hold of this bad boy.
This year will see me experimenting with more beauty products and hopefully finding some more staples for already overflowing beauty draws.  If anybody has anything they would recommend I would love to hear it.
Thanks for reading 🙂
Kate X
[asa kate]B01CP39DOS[/asa]
[asa kate]B01AL6S8YW[/asa]
[asa kate]B0065I8MC4[/asa]