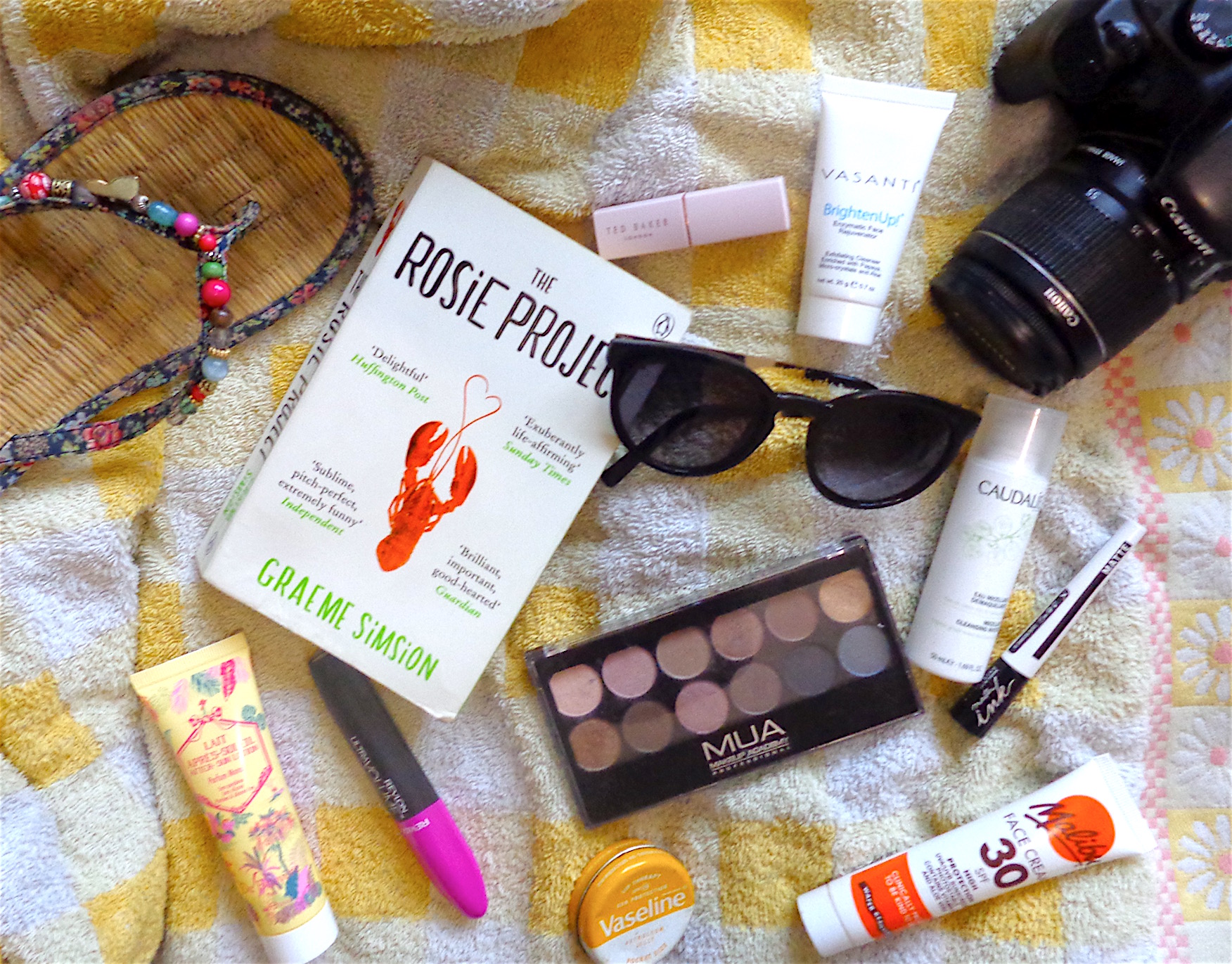 I've just realised how long I haven't blogged for and I have really missed it! Life has been so busy over the last few months so this has taken a back seat, but hopefully, now I am a little more settled I can get back into my favourite hobbies.
I have just returned from a two week holiday to the Canary Islands and before I left, I read so many blogs about What's In My Suitcase and Top Ten Travel Essentials etc but realistically, despite the best of intentions – how much of our stuff do we actually use on holiday? Despite my carefully curated lists of holiday must-haves I still ended up overpacking, so I thought it might be useful to mention a few things that I actually found useful on holiday and realistically – what I should have packed, and also let you know what was neglected.
Suitcase Straps 
Starting methodically at the airport – my partner Aaron and I have personalised straps that fasten around our suitcases. When you're waiting at the airport, I feel these save so much time when you see your name drifting down the conveyor belt towards you, and you can just identify it a lot more easily, and it's less likely that other people might accidentally grab your case. They're not an expensive investment and one I would recommend for any trip.
Suncream
Next is suncream. Suncream in the shops on holiday I find is so expensive and usually of a limited range so I find it's much better to bring all of your suncream with you. I know they can be a bit bulky in your case, but it will save you money in the long run, and at home you have the luxury of selecting your favourite brands as well. If you are planning on a doing a little sunbathing then consider brining different factors with you* as I was using a factor 50 at the beginning of the holiday but towards the end I was using a lower factor on the browner parts of my body.
On the subject of sun protection – I was so relieved to have bought some After Sun with me and my SPF 15 vaseline for my lips. (Just don't leave it in the sun!) – again these are expensive in the shops and of a limited range. I tried an after sun from Glossybox which was amazing and spelt of fruity bananas.
Makeup & Skincare
The Big One: Makeup! I literally bought a shoebox full of makeup with me – and that was with planning! Also this was separate to the little bag I had with me in my hand luggage! I wore a tad more makeup at the very beginning of the holiday, but once my face had caught a little colour which evened out my skin tone and dried up some spots, I felt I didn't need to bother with bronzer and blusher and contouring and all that jazz I had packed. Even highlighter which I did use for the first week was abandoned as my skin became oilier and shinier. In the end I was quite happy with a waterproof mascara, two lipsticks, two concealers (one that matched my skin and a darker one to accommodate my tan), a black liquid liner and my natural eye shadow palette. As we were in a villa we didn't go out every evening and we had our own pool, so in the end my makeup usage was rather limited.
Aside from makeup, I was glad that I brought along my essential skin-care products. I packed travel-sized versions which was perfect for a two week getaway. As I knew I would be outside for most of the day, being hot a little sweaty, I opted for light skincare products rather than heavy creams and packed a light cleanser/toner/moisturiser – but a moisturiser that wasn't oily but hydrated my skin. A few times a week I used a facial polish to clear away dead skin cells.
I left my tangle teaser at home and I was absolutely gutted that I opted for a regular hair brush. When you've got sand and pool water in your hair nothing beats this brush – so if you've never tried one, I would highly recommend a purchase. They don't rid your hair of knots entirely but it definitely smoothes out the tangles which makes it a gazillion times easier to brush.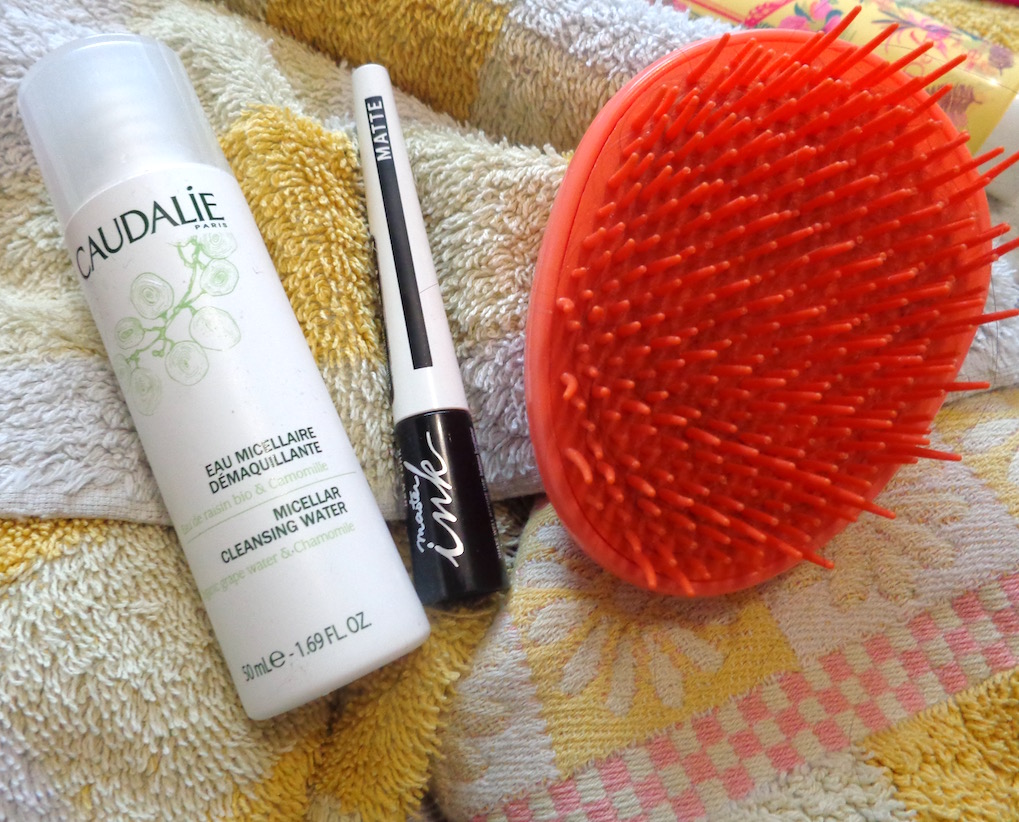 Shoes & Clothes
I would highly recommend a pair of trainers! Or at least a pair of sensible walking shoes as well as pretty flip flops. If you go on any excursions or trips that require a lot of walking, I personally find sliding around in sandals all day a nightmare, so definitely bring along something that's comfortable and lets your feet breathe. I bought flip-flops, a pair of sandals and a pair of trainers. I wasn't planning on hitting any clubs or anything fancy this holiday so my nice pair of sandals were a perfect transition to evening-wear.
I also thought I would be fancy-pants and pack three pairs of sunglasses. Don't bother. I do it every holiday and personally, I only ever end up wearing one pair. When will I learn!
Also – pack extra towels! Between going to the beach and having extra showers to cool down, and having towels that hang around the pool…I swear I get through so many. Aaron and I bought three towels between us, and the villa provided us with towels. Somehow we were still a towel short every day so in my experience, it's definitely worth packing an extra!
One thing I wish I brought with me was a fleece. I anticipated it would be boiling 24 hours a day but there was the odd night when the wind picked up and I wrapped an extra towel around me so I would always chuck, even a thin jumper, into your luggage just in case.
Entertainment
Holiday Reads: I'm not sure why but I decided against taking some easy-breezy summery books with me this year and opted for some crime thrillers such as Karin Slaughter's Pretty Girls, and Lisa Hilton's erotic thriller Maestra. Pretty Girls was what I expected from a crime thriller with a number of twists and turns but Maestra was as a surprise and nothing like I expected; it's an interesting read that tells the story of Judith – an under-appreciated art lover who finds herself wrapped up in an art conspiracy, whereby her decisions (and misfortunes) lead her on this massive journey of self discovery amongst the rich and fabulous and shady, transforming her from the girl with the quiet life to the woman who doesn't seem to know when to stop. The character transformation is pretty impressive, somewhat fast, and completely unapologetic which I rather liked, as with a lot novels these days. there always has to be a damn explanation for everything, a deeper reason for someone's character, some childhood depravity that results in a misunderstood protagonist, but Judith just kind of is. I wouldn't say it was my favourite book of all time, and some aspects of the plot I felt were a bit unnecessary or confused me occasionally, but there was a definite suggestion of a second book and I will certainly be purchasing it when it comes out! Bring on the art, the rich, the sex, the sociopaths, the thrills and the comedy!
As I said, I didn't bring any light, girly, summer reads with me, but, I actually found a few books in the villa which I really really enjoyed and was actually refreshing brake after reading about so many deaths!
They were The Rosie Project by Graeme Simsion and A Parcel for Anna Browne by Miranda Dickinson. I found both books refreshingly light and utterly delightful. No crazy characters, no hungry sex scenes, no deep underlined psychological issues. Just really lovely upbeat books. The Rosie Project is about geneticist Don, who is basically a replica of Sheldon from the Big Bang Theory who devises The Wife Project – a scientific test to find his ultimate, perfect life partner. A Parcel for Anna Browne is about a young, pretty receptionist who suddenly starts receiving the most beautiful gifts, delivered to her at work by an anonymous stranger. Both novels are appropriate for all ages and they both just added a little smile to my face after I read them.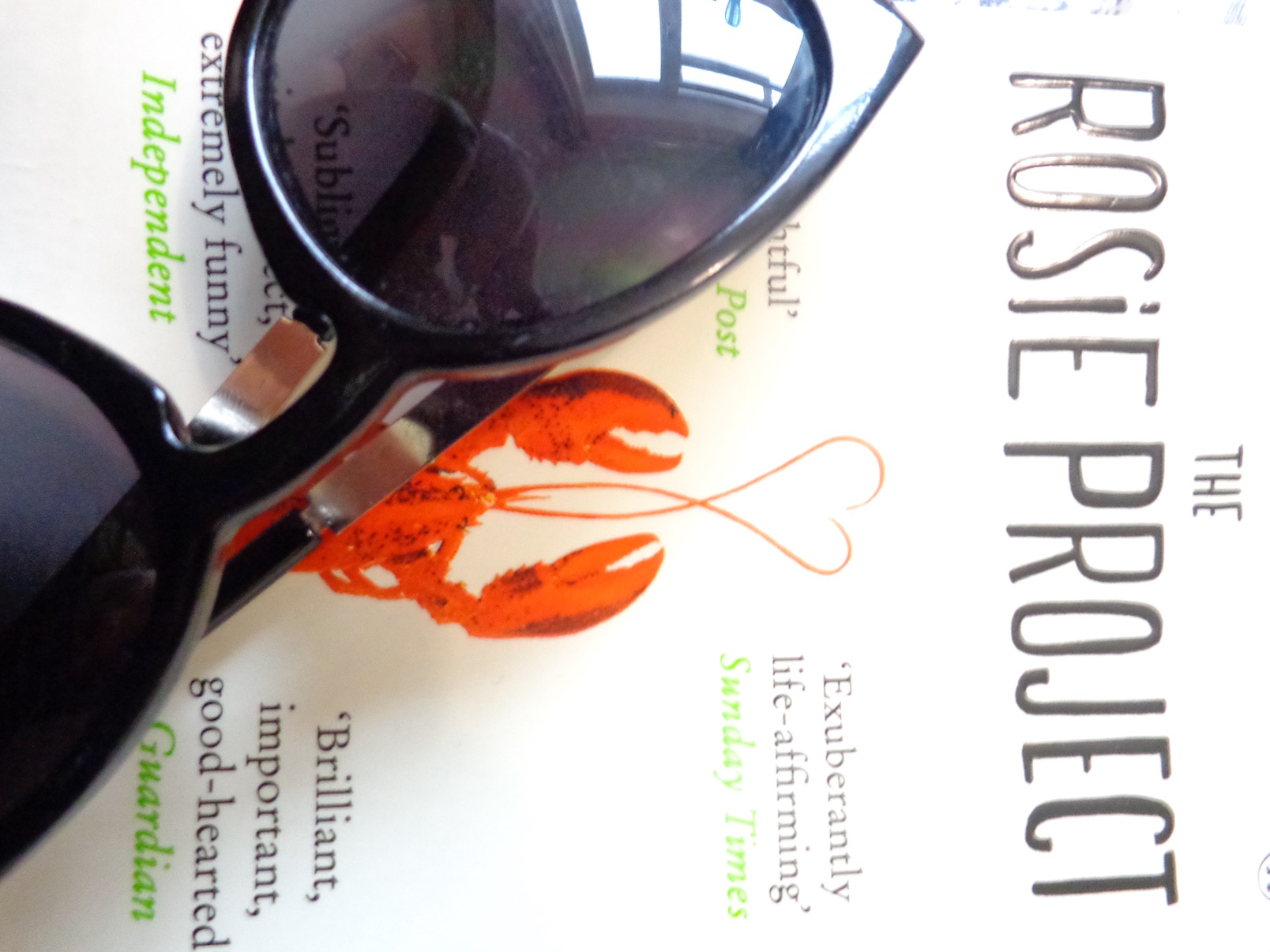 Other than books bring a pack of playing cards! We bought a regular deck and Uno along with us. If you're ever at a loose end, or you're chilling around the table outside with a few cocktails, I swear these will bring you hours of entertainment.
With cameras – we only bought along our big, chunkier Canon. Although it was great bringing a professional camera along, I wish that we had brought with us our smaller digital camera. It would have been easier when going out to dinner to have a smaller camera that will fit more easily into a clutch bag or a pocket rather than having the Cannon swinging weightily around our necks. And with this – definitely bring some extra memory cards. We were fine as long as we were taking pictures but video uses a lot more memory so I'm glad we remembered that at the last second!
I hope this might be a little useful to some of you – the post-holiday post!
Thanks for reading and I would be interested to know what everyone else's holiday favourites are.
Kate X
*I would recommend using factor 50 for any skin type whilst directly exposed to sunlight in order to protect from sun damage