Merry Christmas everyone!
I am currently writing at the best time on Christmas day (in my opinion). That dozy post-foodcalyptic time of the afternoon where the weight of Christmas dinner  is tying us to the sofa yet there's still a box of Heroes on the coffee table, which everyone refuses to put away as we all insist that we have room for "just one more". Even though we clearly don't as my mum and Stepdad are currently snoring on the sofa and I'm half a glassful of wine away from joining them.
*Warning: the following image may give you a food coma if looked at for too long. The gravy's not even there yet.*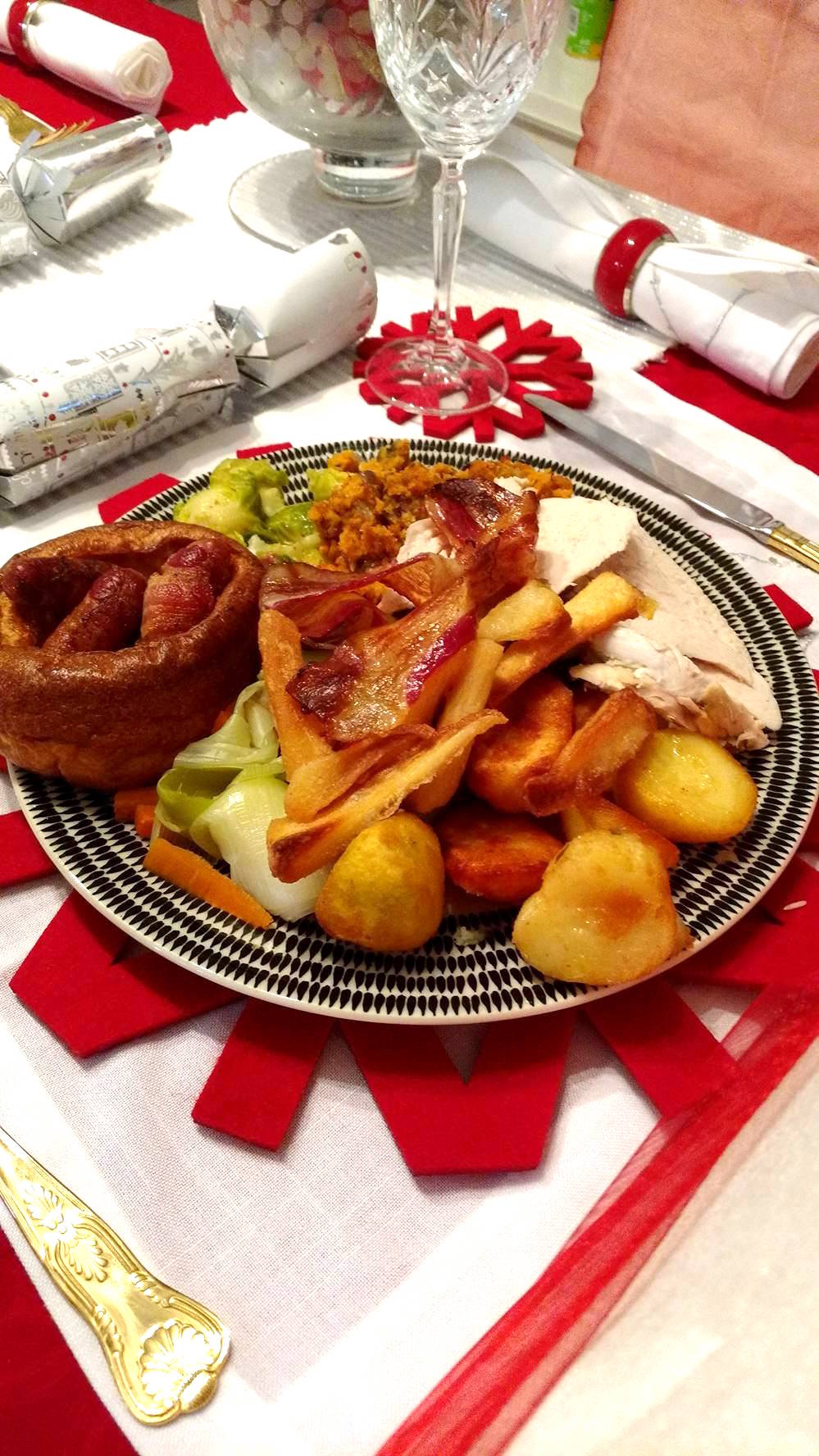 Really though, we have every right to be tired: only 9 days we have moved house to a quiet little village in Kent and despite all the odds against us (a temperamental oven, water leaking through the ceiling, carpet smelling of wet dog…etc etc…) we somehow managed it and still got ourselves unpacked (mostly) and ready for Christmas!
Despite some of the stresses of moving house this month, one thing that has managed to put a little smile on my face every day  – is the Rituals Christmas advent calender.
I've never had a Christmas beauty calender before, tending to opt for one of the chocolate variety, but I thought I would give it a go this year. After scrolling through the beauty calenders of Charlotte Tilbury, Jo Malone, Liberty, Cowshed, Diptyque and L'Occitane, I settled on Rituals. I've only ever tried a few products from the range but everything I have sampled I have always loved so I was keen to try out some products. Also, at just under £50 I thought it was fairly priced compared to some of the beauty calenders out there.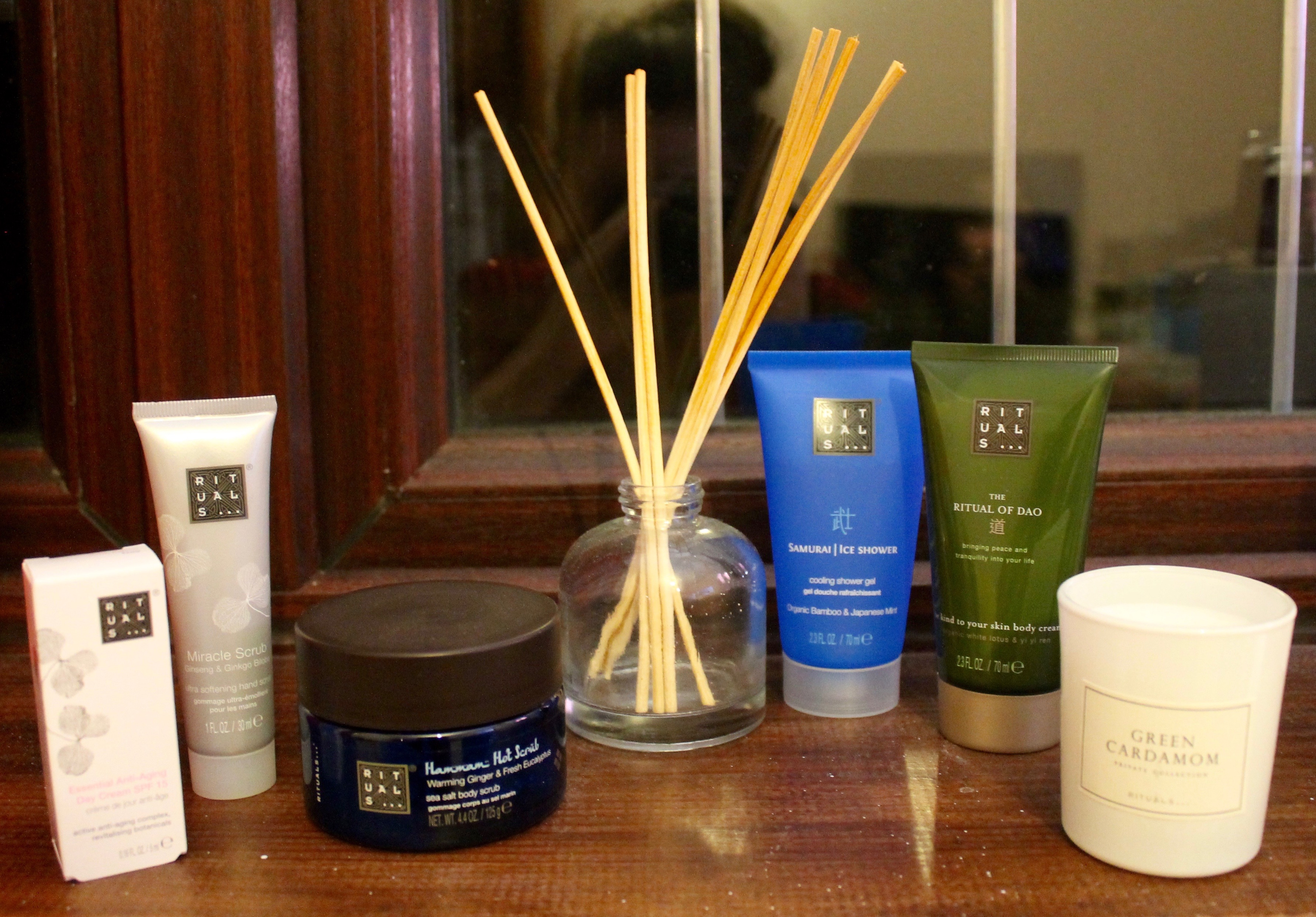 £49.50 will get you the following:
Fortune Oil 20ml, Happy Buddha 50ml, The Ritual of Dao Bed & Body Mist, The Ritual of Dao Body Cream 70ml, The Ritual of Sakura Foaming Shower Gel 50ml, The Ritual of Sakura Body Cream 10ml, Honey Touch 70ml, Samurai Ice Shower 70ml, Samurai Shower 50ml, Hammam Hot Scrub 125gr, Ginkgo's Secret, Miracle Scrub 30ml, Hands Free, Essential Anti Aging Day Cream 5ml, Active Firming Day Cream 5ml, Deep Recovery Night Cream 5ml, 24h Hydrating Gel Cream 5ml, Limited Edition Winter Perfume 10ml, Boutique Line Bath & Showergel 30ml, Balance Line Soap Bar, Miracle Wipes, Nail Treat, Mini mascara, Scrub Glove.
And did I mention they threw in two free candles?
So far I have managed to try most of the shower products, the hand sanitiser gel, the perfume, mascara and a few body creams.
Overall, I would say that based on the products received and the quality of the products that I tried, the calender is reasonably priced.
Everything included has the most fabulous fragrance (a big selling point for me) and feels very luxurious on the skin. On the first day there was even a great mascara included – a pleasant surprise as I didn't realise Rituals did makeup, however because of that I was expecting more makeup items but this was the only cosmetic product.
There were a couple of duplicate products – a few shower gels and several body creams, but everything had its own smell and I personally don't mind having a few of the same products but in difference scents.
Now I have opened the entire calender, there is a great mixture of products and also there is a nice balance of sweeter smells and more "masculine" smells so this should suit a variety of tastes, and some of them my fiance´ has now stolen.
I would definitely recommend this as a fancier beauty calender but without the hefty price tag, and I will definitely be purchasing a few more products once some of these have run out!
It's now getting to that time of the evening where I need pudding followed by stuff I can dip into Camembert followed by passing out whilst wearing something stretchy!
Wishing everyone a lovely Christmas and a Happy New Year!
Kate X